The most vegan, sustainable, 100% organic hotel in Berlin! If you're looking for a vegan-friendly and eco-friendly hotel, this is the place to be. Almodovar Hotel is where ethics, sustainability, comfort and style all come together. 
100% veggie (99% vegan), 100% organic, sustainable luxury hotel in Friedrichshain, Berlin
https://almodovarhotel.de/en/ - to see the different rooms, click here
Boxhagener Str. 83, 10245 Berlin
Instagram: @Almodovarhotel
I searched for the most vegan-friendly, sustainable hotel in Berlin and all arrows pointed towards the Almodovar Hotel. Veganism and sustainability still has a dusty image, so I was thrilled to see that Almodovar proves that it goes perfectly well with luxury, comfort and style. Plant-based and vegetarian-friendly hotels are still rare, but hopefully Almodovar Hotel will inspire many others. It's the perfect example of the planet-proof, ethical hotel of the future.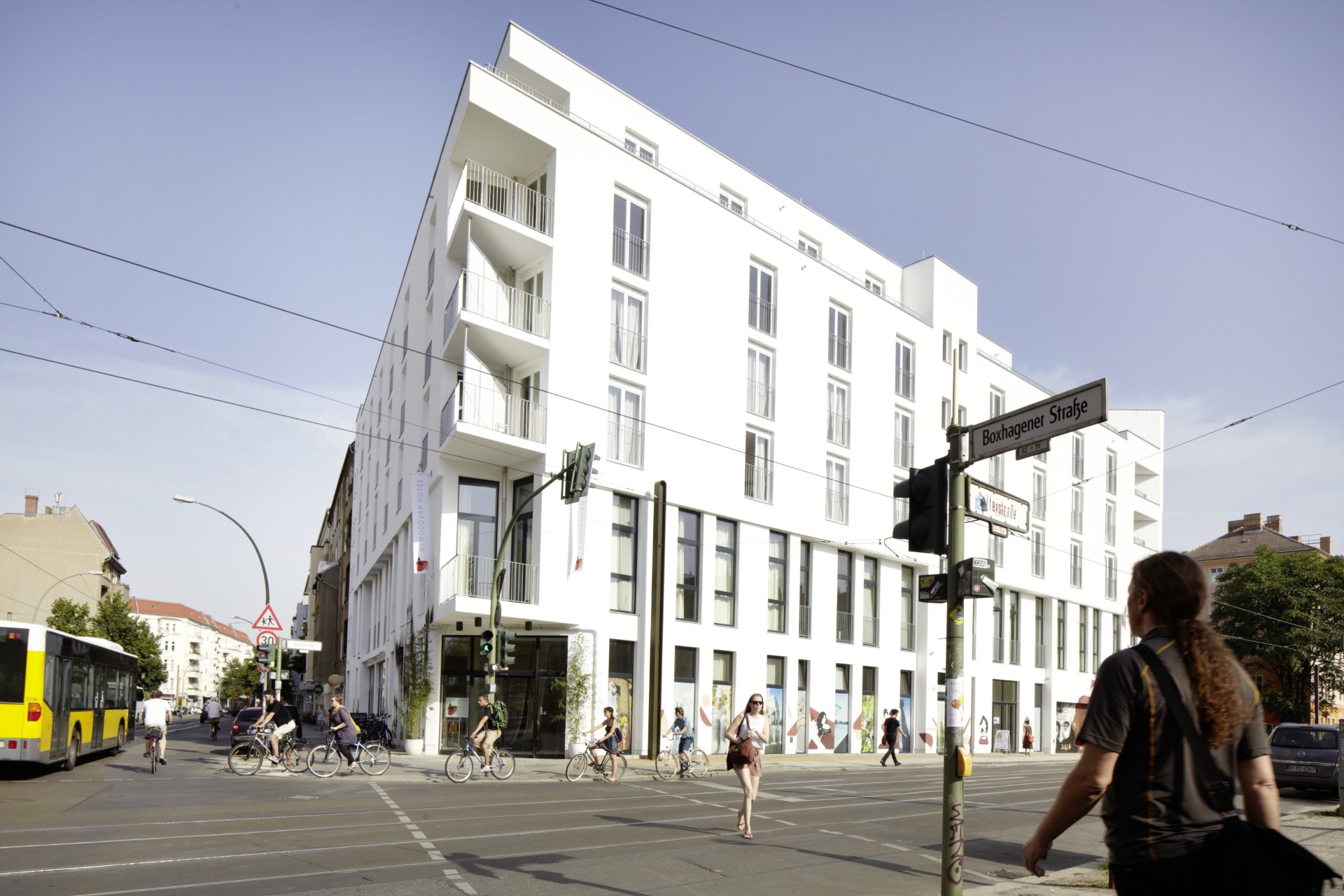 Planet-proof and ethical
Almodovar Hotel's sharp focus on sustainability is visible in everything they do. They are 100% organic, they only use electricity from renewable energy sources, they use energy-saving technology and heat and cool the hotel with a heat pump and district heating. Their furniture is made of sustainable, oiled, FSC wood and recycled, upcycled materials. Their blankets and towels are 100% organic cotton and they only use organic, environmentally friendly cleaning products. And of course, they are the only fully vegetarian hotel. But more on that later. 
The rooms
The Almodovar Hotel has rooms of many different types and prices, but I believe that we were lucky enough to stay in the very coolest. The incredibly spacious loft suite has 5-meter high windows and curtains, a little industrial kitchen station, a modern bathroom and its comfortable bed situated on top of a 'stage' overlooking the room. The built-in sofa's make it such a cool hangout, we almost didn't want to leave the room! Everything was perfectly clean, too. 
Click here to check out the different rooms and prices!
The food
Highly important, but hotel-food is never that good or vegan-friendly, right? WRONG! The breakfast at Almodovar's restaurant Bistro Bardot is incredibly diverse, rich, fresh, 100% organic and 100% veggie (99% vegan). Whatever type of breakfast-eater you are (sweet, savoury, fruity yogurt bowls or sandwiches and croissants with cheese, spreads and cuts) they have it all, vegan. The friendly and helpful staff keeps the freshly baked goods, fruit, drinks and snacks filled and on top of that, we got to try some very original vegan breakfast dishes that we didn't know before. The absoluut highlight: the creamy vegan pudding bread!! If they have them, grab them!
Sustainability and ethics also plays a major role in Almodovar's restaurants. They use fresh, regional and seasonal ingredients from regional suppliers as much as possible and only serve fair trade coffee. And of course, everything is organic and vegetarian. 
Even if you don't stay at Almodovar Hotel, you can visit here for what I would call the best vegan hotel-breakfast I've ever had, or in the afternoon when it turns into vegan tapas bar  Bistro Bardot. 
Photo 3-4: Giacomo Morelli 
Rooftop spa
Who says sustainability, veganism and ethics don't go with luxury and comfort? After a long day of exploring all the vegan hotspots that Berlin has to offer, head to the rooftop spa to relax, enjoy the sauna or even book a massage. Or even better: book the spa suite and have your private sauna and spa tub in your very own room!
Photos: Katharina Kern
Location location location
Last but not least important: Almodovar is not only the most sustainable, organic and vegan-friendly in Berlin, it also has a great location. Right in the middle of Friedrichshain, which is our favourite district in Berlin. It is full of vegan restaurants, vintage shops, parks and markets. Its location makes Almodovar Hotel the perfect base from which to explore vegan Berlin!
So if you are looking for a sustainable, organic, veggie hotel in Berlin that serves an amazing plant based breakfast, Almodovar is your place to be. 
After booking, check out my ultimate guide of my favourite vegan restaurants in Berlin!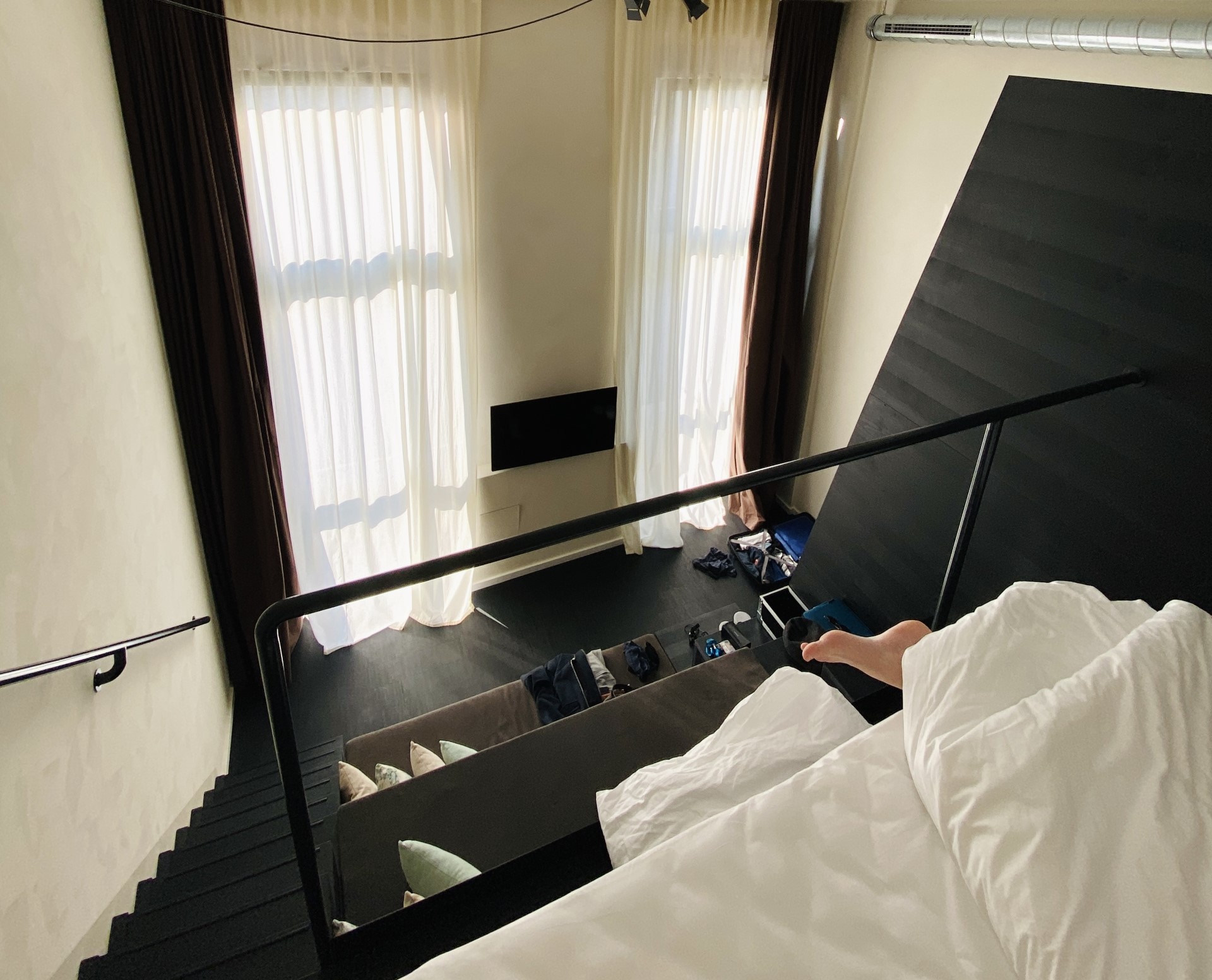 Plantbased Dennis op Instagram
Ik ben het meest actief op Instagram! Hier post ik bijna dagelijks wat ik eet, koop, doe, lees of denk. Volg me op @plantbased_dennis!