Barcelona has many vegan hotspots and you'll have no problem finding delicious vegan food in Barcelona by just walking around. However, there are a few vegan restaurants that stand out in my opinion.
The incredible food scene is one of the things that make Barcelona loved by many and in recent years, its offer of sometimes typically Spanish vegan food has increased exponentially. Admitted, I am more sensitised to the word vegan than to my name, but you'll find this word on the signs and menus of restaurants anywhere you go.
Not every plant based or vegan-friendly restaurant in Barcelona turned out to be a success, however, with many chefs still in the traditional-recipe-with-things-removed phase. That is why in this article, I only list the vegan tips in Barcelona I full heartedly recommend.
Flax & Kale
Without a doubt the most famous healthy and vegan hotspot in Barcelona, with multiple locations and types of restaurants throughout the city (and Madrid). Some of them are 'flagship' restaurants where they spoil you for a full evening with original, beautifully presented dishes that feed the soul, and some are 'street' restaurants, which are also nice but a bit more intended for lunch, take-away and simpler dining. We visited the flagship restaurants on Carrer del Taller and the Passage.
Click here to see an overview of their restaurants and locations, or click here for Google Maps.
https://flaxandkale.com
Instagram: https://www.instagram.com/flaxandkale/ 
Teresa Carles
Teresa Carles is part of the Flax & Kale group but definitely has its very own style and menu. This highly popular and stylish vegetarian restaurant in Barcelona has many vegan options (actually, few of them are not vegan). Most of them are typically Spanish, with a special vegan twist. Healthy & Tasty is their motto and they sure got it right. To be honest, this was my favourite vegan food in Barcelona.
Below you're seeing among others the plant based Barcelona bomb, fungi croquettes, roasted sweet potato with brava sauce, guilt-free chocolate cake and a vegan millefeuille.
http://www.teresacarles.com/tc/eng
Instagram: https://www.instagram.com/teresacarles/
Carrer de Jovellanos, 2
The Green Spot
This award-winning and gorgeous vegetarian restaurant in Barcelona is also one that I'd love to come back to! "Veggies for veggies, veggies for non-veggies" is their motto and I couldn't agree more. Delicious vegan food is for everyone, after all! The majority of the items on the vegetarian menu are also vegan and although the interior, wine and ambiance makes the place feel like fine dining, many of the dishes tend more towards vegan soulfood (which is a win-win in my opinion), such as the Ethiopian flatbread with stews and the crumble dessert.
Click here for their website
Instagram: https://www.instagram.com/thespotbarcelona/
Carrer de la Reina Cristina, 12
Vegetalia
Vegetalia says they're the best vegetarian and vegan food in Barcelona and I definitely believe that to many they are. Vegetalia serves delicious plant based dishes for a vegan breakfast, brunch, lunch, dinner or a vegan snack, with friendly prices. We just dropped by for a coffee and couldn't help but order this platter, after seeing how delicious the vegan dishes looked on the other tables. Vegetalia has two restaurants: Born and Gótico. We were at Born.
https://www.restaurantvegetalia.com/en/
Born: Plaça del Fossar de les Moreres, s/n, 08003 – click here for menu
Gótico: Carrer dels Escudellers, 54 – click here for menu
See them both on this map
Instagram: https://www.instagram.com/restaurantesvegetalia/
Quinoa Bar Vegetarià
This 100% vegan restaurant in Barcelona has rebellious, colourful vibes as well as delicious food for late breakfast (from 12:00), lunch and dinner. Or drop by for a vegan milkshake, tapas or sweets. They have two restaurants and a vegan bakery that creates gorgeous cruelty-free cakes.
https://quinoabarcelona.com
Instagram: https://www.instagram.com/quinoabarcelona/
See both locations on this map 
Click here for the menu 
Ina Espacio di café y piadina
Although they are traditionally Italian, Ina sure knows how to make delicious vegan piadina's. Combined with great coffee and colourful vegan smoothie bowls, this was our favourite, tiny little place for vegan breakfast in Barcelona.
Carrer dels Carders, 43
Instagram: https://www.instagram.com/inaespaciocafeypiadina/
Pizza Paco
Not necessarily a vegan restaurant, but I was told that Pizza Paco makes some of the best vegan pizza in Barcelona. And although the place is small and not exactly pretty inside (the terrace is nice!), we were very much impressed by the pizza's with excellent vegan cheese. In addition to a wide variety of vegan pizza's, they always have at least one vegan dessert. As far as I know, the pasta's and lasagnes are not vegan.  
Carrer de l'Allada-Vermell, 11
No website, but Instagram that shows their current menu in the story highlight: https://www.instagram.com/pizzapacobcn/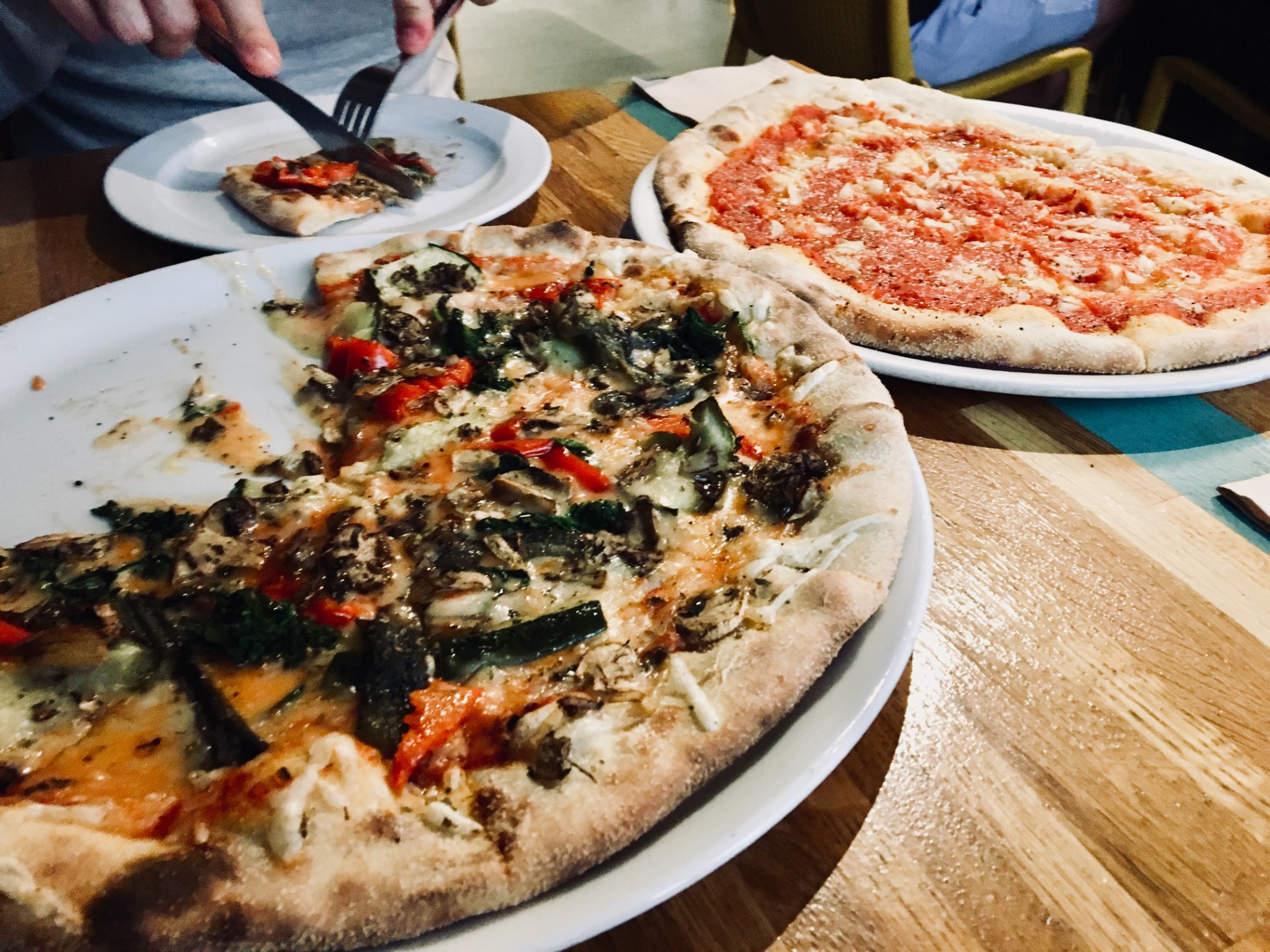 Plantbased Dennis op Instagram
Ik ben het meest actief op Instagram! Hier post ik bijna dagelijks wat ik eet, koop, doe, lees of denk. Volg me op @plantbased_dennis!