Malaysia & Singapore
Vegan travel
George Town in Penang is known as the (street) food capital of Malaysia. Some even say of the whole of Asia and I now understand why! And although it is a bit more challenging to find plant-based street food, as a vegan you can definitely find lots of delicious and remarkable vegan food in George Town.
I had to see (and taste) it to believe it because "streetfood capital of Asia" is quite the title when there's other players like Bangkok. But as soon as you enter George Town, you immediately see why this just might be true. Everything here revolves around food and you will come across special dishes that you will only find in Penang. And the locals are, rightly, very proud of that!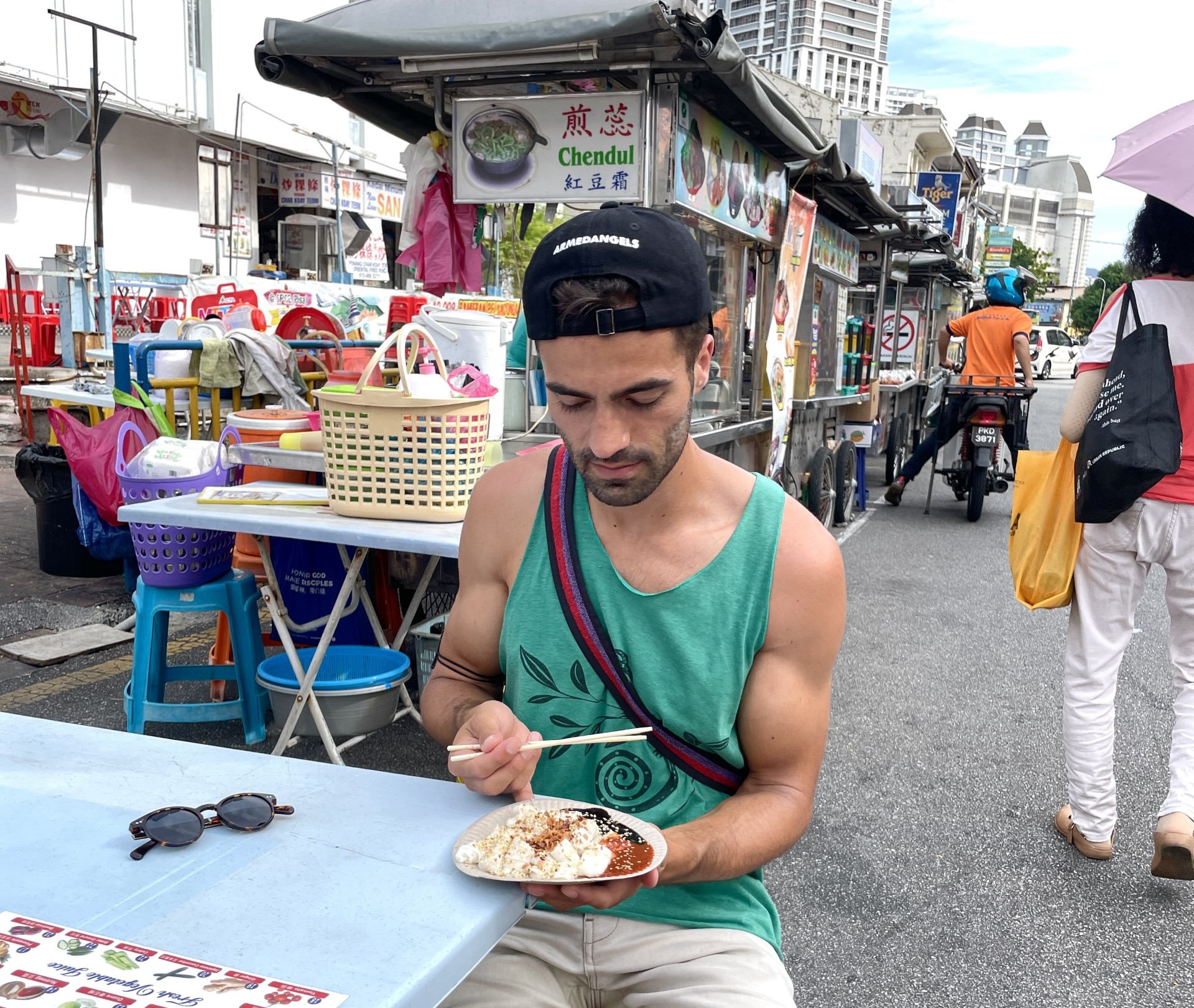 As a vegan in Penang, there is plenty for you to taste, although it is a lot more limited and challenging. Meat or fish are often still the centerpiece of the dish, dairy (especially ghee) is used surprisingly often and many baked goods contain egg.
But if you try a little, there is plenty of plant-based deliciousness to be found and you can absolutely partake in the fantastic food scene. I listed my favourite or most special streetfood finds in this vegan guide to Penang, which I would have liked to have found myself before visiting. 
Looking for vegan-friendly restaurants in George Town, Penang? Read this article!
In the pictures below: 
1 - Char koay kak - fried rice cake in dark soy sauce. Often with egg, fish or shrimp, but they can omit this. It is really delicious, with a slightly soggy bite full of flavour.
2 - Tee cheong fun - a thick, chopped rice noodle with a dark soy sauce and a spicy sauce. Note: normally with another sauce that contains shrimp paste. Ask to omit this!
3-4 - Chendol - this dish is popular all over the country, but the Teochew Chendul on Penang Road is legendary. They have been here since 1938 and de  (almost all locals). However, they serve the chendol so quickly that it's your turn within a minute. The really delicious: creamy coconut milk with shaved ice, pandan noodles, all kinds of tapioca jelly's (no gelatin, always check that) and red beans that have been boiled for 6 hours. A special combination that works!
5 - Ice Kacang - a sweet x savory dessert or snack similar to chendol. Usually made with syrup in flaked ice corn, beans, jelly's in different flavors and colors and sweet syrup.
6 - Shi gua th'ng - I saw everyone eating this too. Jelly's, lychees and - yes - sweet potato in ice water. Special? Yes. Yummy? No. I bought this at shi tan shui pu on kimberly street.
In the pictures below:
1-4 - Bao (pau) - The bao scene in George Town is insane!! Look for the steam cabinets full of bao along the street and ask for the vegan variants. They usually have red bean paste, yellow bean paste and coconut. If you're lucky, they also have more special flavours such as pandan, peanut, vegan char siu (bbq flavour, normally with pork), oatmeal and more.
5 - Ham Chim Peng - These Chinese stuffed pastries are very common in Penang and are really delicious. My favorite fillings are sticky rice and red bean paste!
6 - Fried sesame balls - usually at the same stalls (and with the same vegan fillings) as the ham chim peng.
7 - Roti canai - very common street food in Malaysia. Very often made with egg or butter, but not always. So search a little. These were fantastic. I found them at the T.S. Bismi at the foodmarket on lebuh tamil. The dahl with it was also delicious. Note: it is a breakfast thing, so in the afternoon you will less easily find them.
8 - Appam Balik - You sometimes have to search a little longer for them, but these vegan pancakes (often with peanuts) can also be found! Ask to leave out butter. 
9-11 - Indian street food - especially in Little Indian, you will find stalls with snacks everywhere, many of which are vegan! For example samosas, sweet puri in all shapes and sizes, vadai and curry puffs. Chapathi with dahl is also never far away.
12 - Durian - hate it or love it, you must have tried at least once!
Between meals, fill your time by strolling through the cutest streets and taste the wonderful vibes, until you can eat again ;) enjoy!