Thank you for checking out my website! My name is Dennis Vink (built in 1993) and I am a biologist specialised in animal behaviour, welfare and ethics. I am a diehard foodie with a passion for sustainability, justice, fitness and ethical issues. I switched from being the biggest meat lover to vegan in 2016 and started Plantbased Dennis in 2020 as a platform for vegan inspiration.
My goal is to inspire and help as many people as possible to also adopt a more plant-based, healthy and increasingly sustainable lifestyle. I aim to achieve this by sharing practical tips, recipes, the best vegan hotspots, sustainable products, stimulating thoughts and all kinds of other vegan inspiration!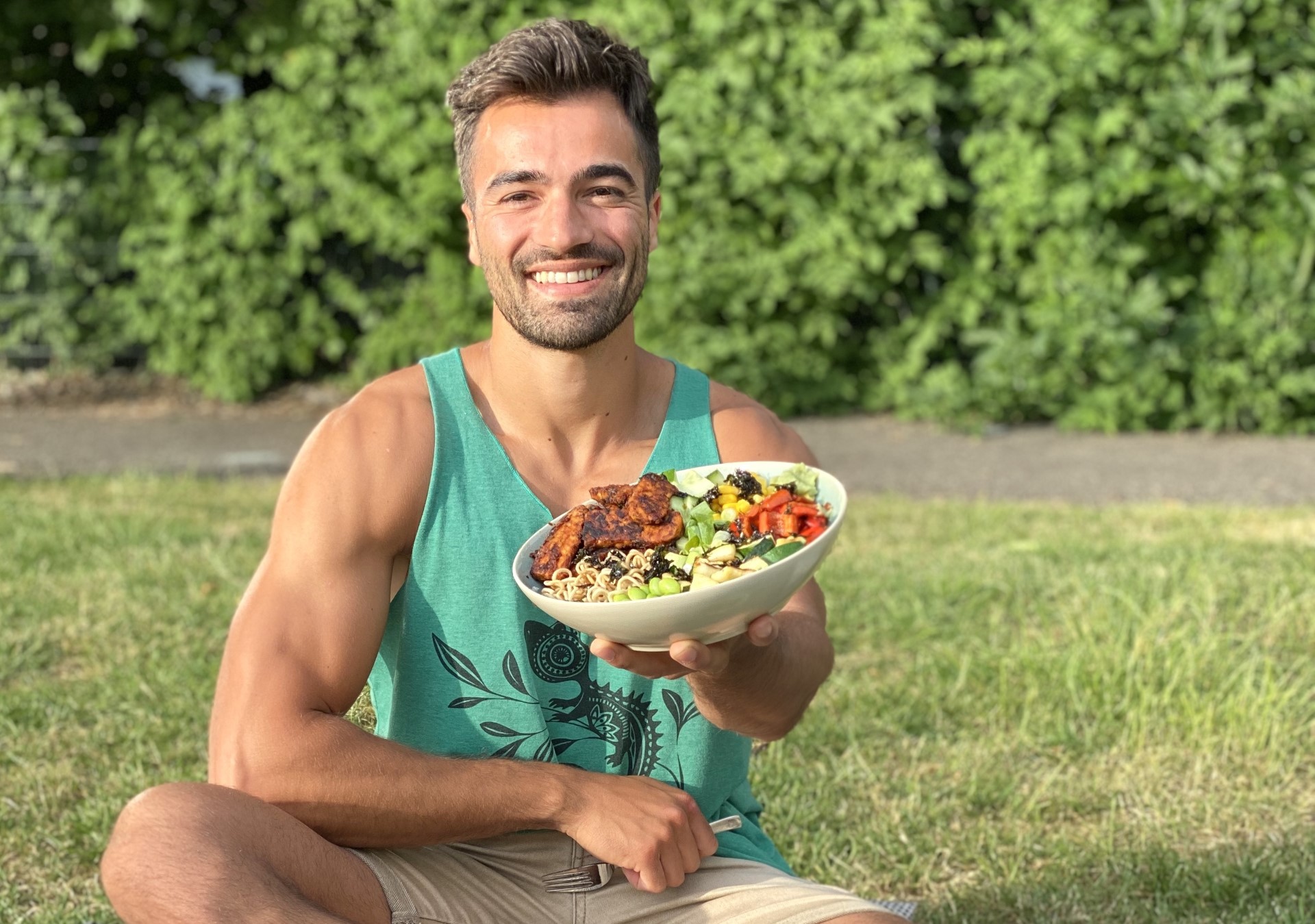 From meat lover to vegan
I definitely was not born vegan. On the contrary, for the first 22 years of my life I basically ate animal products with every meal. The more the better. Meat used to be so important to me that when my mom asked what I wanted for my birthday, I asked her to make me a huge pot of Surinamese chicken. At the same time, I was also a huge animal lover. As a child I only played with animal toys, I only watched animal movies and always wanted to be around animals.
When I started specializing in animal behavior and welfare at university, I got to know the animal agriculture industry and saw with my own eyes what takes place behind the closed doors of these 'farms' and slaughterhouses. For the first time, I consciously recognised the link between my meat and the mistreated animals in those overcrowded buildings, between my cottage cheese and the calves in the dairy industry, and between my omelette and the shredded or gassed chicks. I also learned about the enormous impact that livestock farming has on nature, the climate and public health. From that moment on, I knew I couldn't call myself an animal lover or nature lover if I continued to support these practices by purchasing animal products. Only later did I discover the many other benefits of a plant-based diet for myself, such as health risks and improved sports performance.
Profesionally
Biology is a very broad field and I have done many different things in my career. I worked as an animal welfare researcher for the Faculty of Veterinary Medicine, Utrecht University. I lived abroad for a while to study the cognitive abilities of wolves. I worked with various zoos on improving animal welfare, research and conservation projects and developing education about biology, nature and sustainability. I am also a member of the Dutch Council of Animal Affairs. This is an independent council of experts that discusses multidisciplinary, ethical issues regarding animal welfare and advises the Minister of Agriculture, Nature and Food Quality. As Connector Health & Food at R'damse Nieuwe, I aimed to draw attention to issues related to these themes and to build bridges between the established order (municipality, corporates, etc.) and the next generation of entrepreneurial people of Rotterdam. At World Animal Protection, I worked as a wildlife program manager to protect wild animals that are being exploited as entertainment, merchandise or pets, by moving  both politics and corporates and by raising public awareness.
Plantbased Dennis
Because I noticed that I was helping and inspiring more and more people in my personal environment to live more and more plant-based and sustainably, I decided in 2020 to start with Plantbased Dennis as a platform for vegan inspiration. It is my goal to make the switch to a vegan lifestyle as easy, delicious and fun as possible for everyone by sharing all kinds of tips, scientific information, recipes, vegan hotspots and stimulating thoughts. In addition to the rapid growth of my platform and the tremendous engagement of my community, there are a number of things that I'm proud of. The Vegetarian Butcher selected me as one of the ten most impactful Honorary Citizens who contribute to the food revolution, "because of special merits for animals, people and the environment". In addition, I am a proud ambassador of the Melief Animal Sanctuary and with my double-animal-friendly Christmas dinner I raised a great amount of money for the animals in their care, together with my lovely followers. With the second edition in collaboration with Trai Vegan, we even raised 10,000 euros for the sanctuary!
Click here for an overview of appearances in different media. 
Collaborate?
You can contact me for dialogues, campaigns, promotions, articles, lectures and presentations, podcasts, interviews, give-aways and many other types of collaborations that help make the world a bit more animal-friendly, fairer, conscious, sustainable or better in any other way.