Berlin is, together with London, the most vegan-friendly city in the world. You don't have to look far for plant-based food in Berlin. Everywhere you look, you will find fantastic vegan restaurants, plant-based breakfast shops and vegetarian foodstalls. To help you on your way, I have listed all my favorite vegan hotspots in Berlin for you in this article.
Berlin is unbelievably vegan-friendly. Everywhere you look, you'll see the word "VEGAN" displayed on restaurant signs and at the top of the menus (instead of at the bottom, where it often still found in the Netherlands...). Even at restaurants that are not vegan-minded at all, the signs often read something like "We also love vegans!" or "Multiple vegan options!". The abundance of vegan food, together with the unique free atmosphere, the beautiful diversity on the streets and the crazy party scene, makes Berlin my favourite city in the world.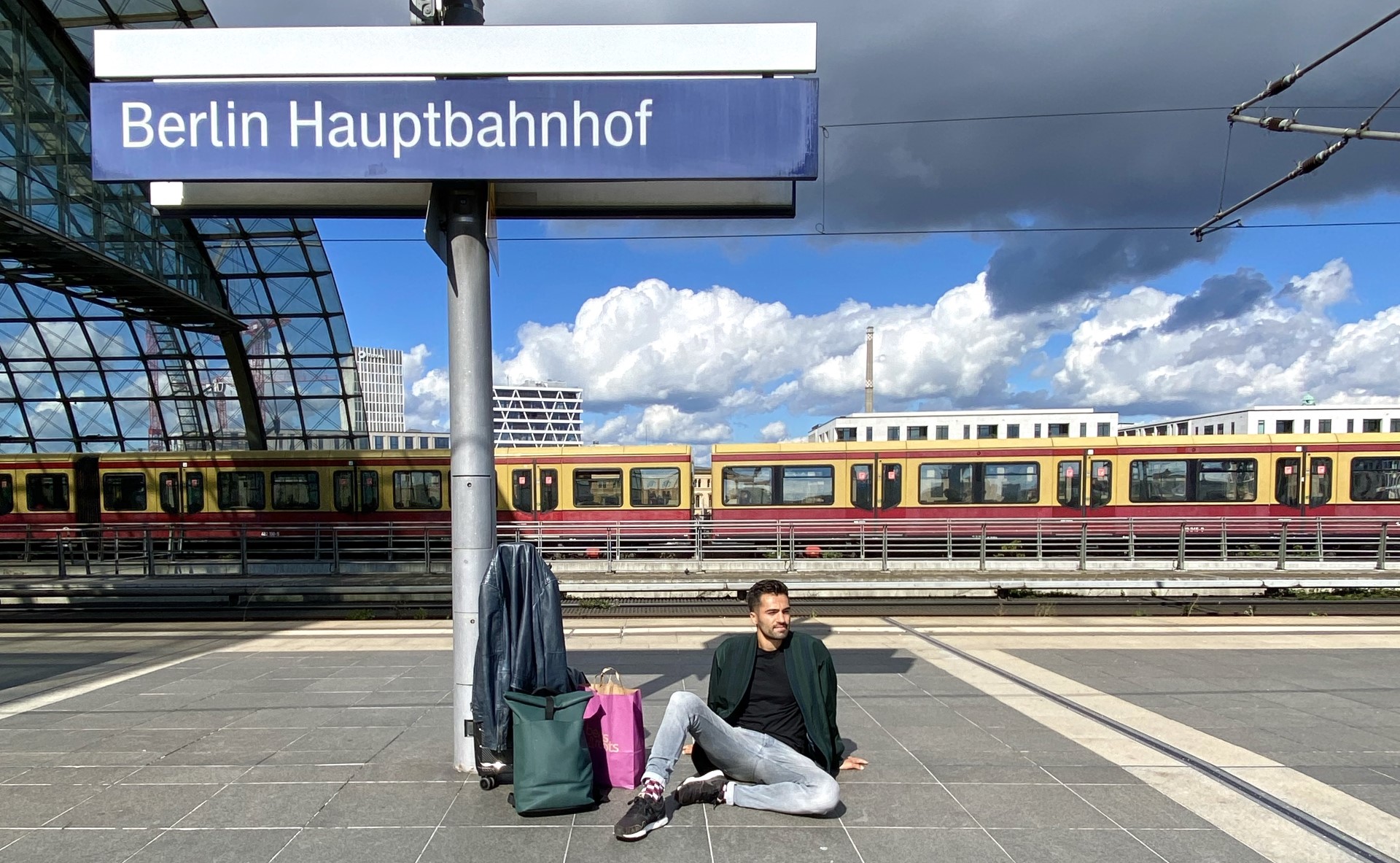 Berlin really is 100 steps ahead of Dutch cities in that regard and is therefore hopefully a glimpse into the future for what awaits us in the Netherlands. The future is vegan, and Berlin is already showing what that looks like. It is teeming with cute Asian vegan restaurants, hip tents with delicious vegan breakfasts, snack corners and plant-based fine-dining restaurants.
I try to go to Berlin at least once a year and try as much plant-based food as possible there. To help you on your way, I have listed the (in my experience) best vegan restaurants in Berlin below. Enjoy!
Vegan Asian Food in Berlin
Berlin is teeming with cosy, Asian vegan-friendly restaurants where you can order small dishes at cute tables. I've tried as many as I can and these are my favorites so far! PS: Oukan Japanese Fine Dining is of course also Asian, but it is under the heading 'fine dining'.
1990 vegan living
An incredibly popular, well-known vegan hotspot that has been serving special vegan dishes since 1990. This cute Vietnamese restaurant sits on the corner of a cozy square in Friedrichshain, surrounded by other vegan eateries, such as Li.ke and Nyom. You can order small dishes to share (or not), but also larger dishes where you can of course also choose to share, but rather not. My favourite were the bao buns. Also recommended:  cocktails!
Vegan Vietnamese tapas
https://www.restaurant-1990.de 
Krossener Str. 19
Instagram
Li.ke Thai Vegan
A cosy, 100% vegan restaurant with a Thai experience from head to toe. From the people to the chairs and from the Buddhist statues to the music. But above all, the food! Together with the Singha beers we were right back on the streets of Bangkok. Incredibly tastyl! They are located at  Boxhagener park, where you will also find 1990 Vegan Living, Nyom and Balaram.
100% Thai Vegan tapas / streetfood
http://www.likethaivegan.com  
Grünberger Str. 69, 10245 Berlin
Instagram
The Tree Noodles
Cute, cozy but hip Chinese restaurant with delicious noodle bowls and soups with good thick noodles, lots of fresh vegetables, tasty tofu and those really good thick noodles that you gulp down. Incredibly well seasoned tofu and mushroom snacks beforehand and especially the dessert of fried bread with cream was bizarre. Almost like sweet French toast!
Chinese, noodle dishes, bites and sweet zoete desserts
Website/FB
Brunnenstraße 167, 10119 Berlin
Instagram
SOYA - Vietnamese Vegan Kitchen
This one should be much more famous though because HOLY BAO! I love bao and SOYA's are  perfect. The Vietnamese pancake, the Udon'N'duck (favorite!) and the tofu ginger were also delicious. Tip: They have delicious mango lassies! Furthermore, the place has a great vibe  and the people are very friendly.
100% vegan Vietnamees
https://soya-berlin.metro.rest 
Falckensteinstraße 36, 10997 Berlin
Instagram
Momos - Organic Veggie Dumplings
Homemade, organic veggie dumplings with delicious, original fillings. Order a 'Momos Experience', because then you get a huge, colorful sharing platter with both the steamed and baked dumplings with all different fillings and the vegan dips! A delicious, filling lunch or snack and really something different for a change. Living in Germany? You can have the dumplings delivered frozen to your house!
Organic, colourful dumplings
https://momos-berlin.de 
Chausseestraße 2, 10115 Berlin
Instagram
Secret Garden Vegan Sushi
"Who the f*ck needs fish?!" That's the slogan of this restaurant and rightly so. This wildly popular sushi joint shows that you really don't have to disturb any fish for the very best and most beautiful sushi. The restaurant feels a bit massive (and your orders are brought surprisingly quickly) but the taste, the nice staff and the creative use of original ingredients wildly make up for it.
Tip: You will probably order in several rounds, but make sure you order at least 16 pieces of sushi, because from that number on they serve your board with the mysterious smoke. And believe me, you want that!
Besides all the delicious dumplings, gyoza's, makis and other sushi filled with everything from tender tofu strips to pickled pumpkin and from garlic mushrooms to asparagus, the desserts were also a highlight. We tried the avocado-matcha cheesecake with choco-biscuit bottom and the "Happy Ending" crème brûlée of vanilla and coconut with ginger-agave syrup.
Nyom
Across the street from 1990 Vegan Living is Nyom, another incredibly cute Asian place where you can order many small snacks as well as larger dishes. Not entirely plant-based, but about half of the menu is vegan. The pad thai with seitan was delicious, but the vegan bao buns were my favourite! Ordered extra for the train ride home ;) 
Vietnamese tapas
https://nyom-restaurant.de
Gabriel-Max-Straße 17
Instagram
SOY
SOY is another cosy, Asian restaurant where you can enjoy the tastiest dishes for both lunch and dinner. Although SOY can be compared with 1990 Vegan Living, Nyom, Soya and Li.Ke, there are completely different, original items on the menu here.
Below you see: tofu in spicy coconut-peanut sauce, red curry, spring roll with peanut sauce and Vietnamese coffee with sweet coconut milk, bao buns with veggies and the absolute winner: Vietnamese pancake with marinated "chicken" of tofu and seitan. This last one is really something new and very special for me.
100% vegan Vietnamese
https://www.soy-berlin.com
Rosa-Luxemburg-Straße 30
Instagram
Umami
Similar to 1990 Vegan Living, Soy and Nyom, Umami is also a appealing Asian restaurant where you can enjoy the tastiest dishes for a very reasonable price. They are not 100% vegan like 1990 Vegan Living and Soy, but just like Nyom, about half of the menu is vegan.
In the photos below you see: Noble Harmony (tofu strips in a golden coconut curry cream with sweet potatoes, pumpkin, ginger and lemongrass), Angkor Wat's Pan (seitan with lots of vegetables on thick rice noodles in soy sauce), Saigon Pancake (This was my absolute favorite! Crispy sweet potato pancakes with golden seitan cubes on top).
Asian Fusion
http://umami-restaurant.de
Four locations, See here their locations.
Instagram