Malaysia & Singapore
Vegan travel
As a vegan, the hawker foodcourts in Singapore can be challenging to navigate. However, with a little effort, there are plenty of delicious and authentic plant-based dishes and snacks to be found. To help you on your way, I made this vegan guide to Singapore hawkers with the best vegan street food in Singapore I found and I think you should try too. 
The street food scene in Singapore takes places in so-called hawkers, which are basically enormous foodcourts scattered throughout the city. They come in different styles, from Chinese to Indian focused, different conditions, from old and damaged to hip and brand new, and different sizes, ranging from dozens to even hundreds of food stalls. Each selling their own specialty dishes from their cuisine.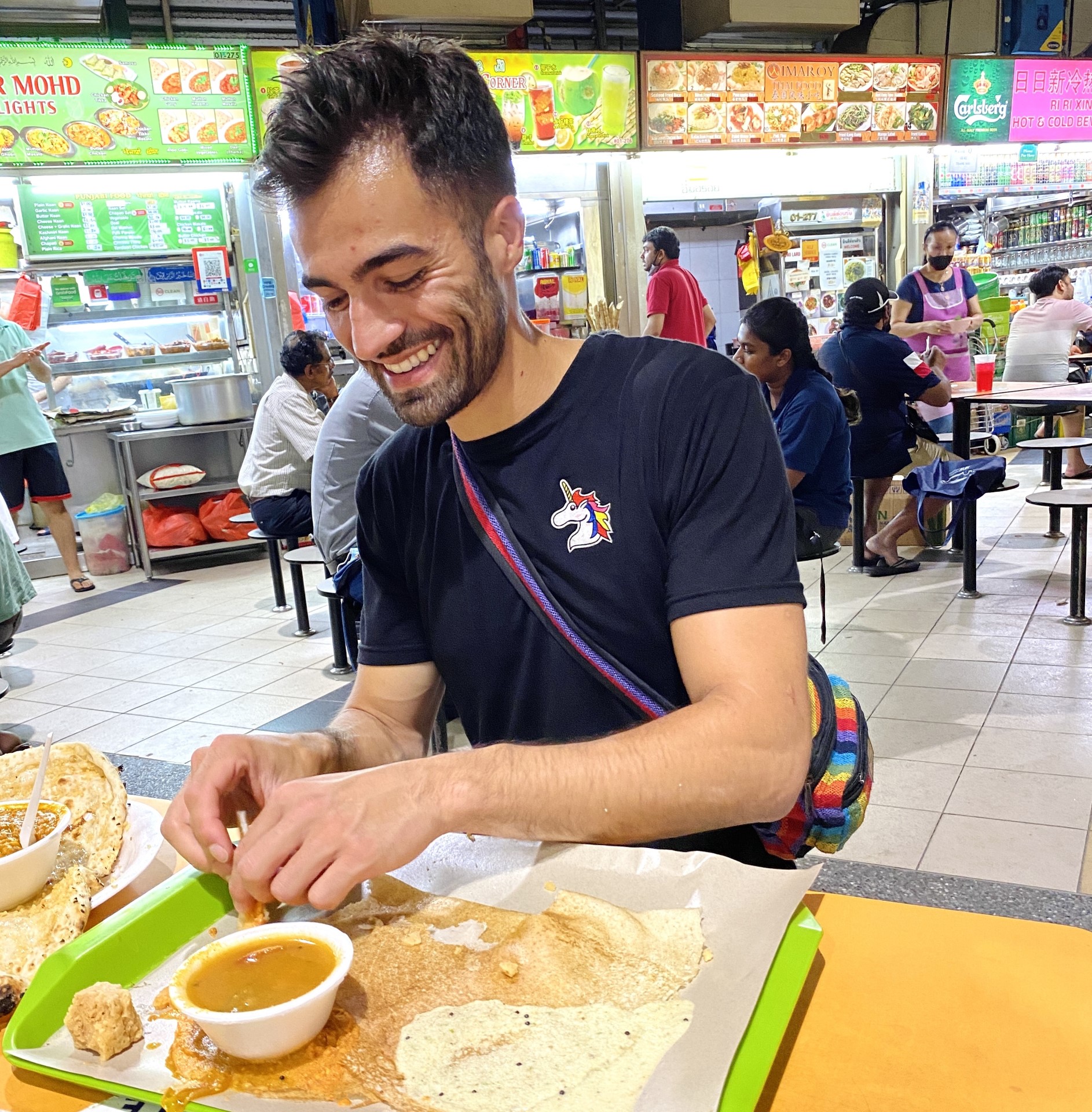 Hawkers are an important part of Singaporean culture and everyday life, and you'll mostly find locals here for their daily breakfast, lunch or dinner. You won't find many western tourists, and that shows in their very limited use of the word vegan. You'll find plenty of vegetarian options which are accidentally vegan, but it's not signaled clearly at all and a lot  
Singapore hawkers as a vegan
For me, searching the hawkers for plant-based meals and snacks was the absolute highlight of my time in Singapore. I genuinely found my favourite meals here, too. However, it may not be for everyone. Especially not every vegan. Meat still appears to be the most important component of most meals that are served here, and you'll see whole roasted chickens, ducks, pigs and what not hanging upside down in many stalls. Especially in the Chinese hawkers, pork is everywhere. Not very appetising for a vegan who can only  see the sensitive individual behind that corpse. 
But, if you can look the other way as you pass this, you'll find amazing vegan dishes too. Just take your tray to the area with the shared tables and enjoy your vegan meal there.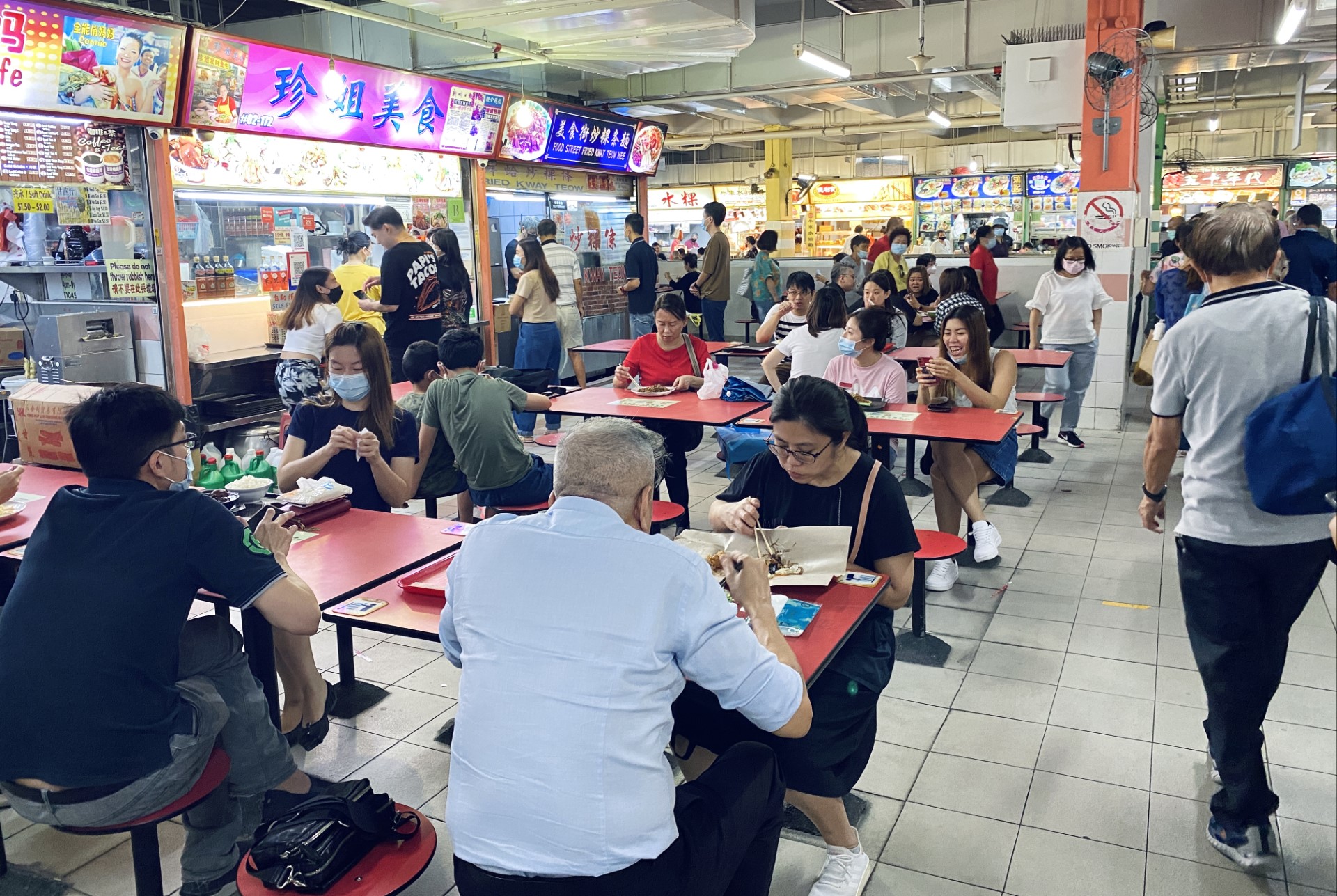 Vegan and vegetarian restaurants in Singapore 
Not interested in eating street food in hawkers but would you rather eat at proper, fancier (and more expensive) vegan and vegetarian restaurants in Singapore? These can all be found in the Happy Cow app! Singapore is so well-reported in the Happy Cow app, that there was really no need for me to make a guide of vegan hotspots in Singapore. Finding vegan food in hawkers, however, is way more of a challenge and I really missed a proper vegan guide to them. 
So here's my attempt to help you on your vegan way.
Geylang (putu piring)
The main reason to visit Haig Road Food Center or Geylang Serai Food Market is for the one and only Haig Road putu piring. Putu piring at Haig Road was the star of the Singapore episode of the Netflix series 'Streetfood Asia' and we had been looking forward to trying it ever since we learned it's vegan. It's made of steamed rice flower with warm, caramelised palm sugar inside, served with pandan leaves and grated coconut on the side.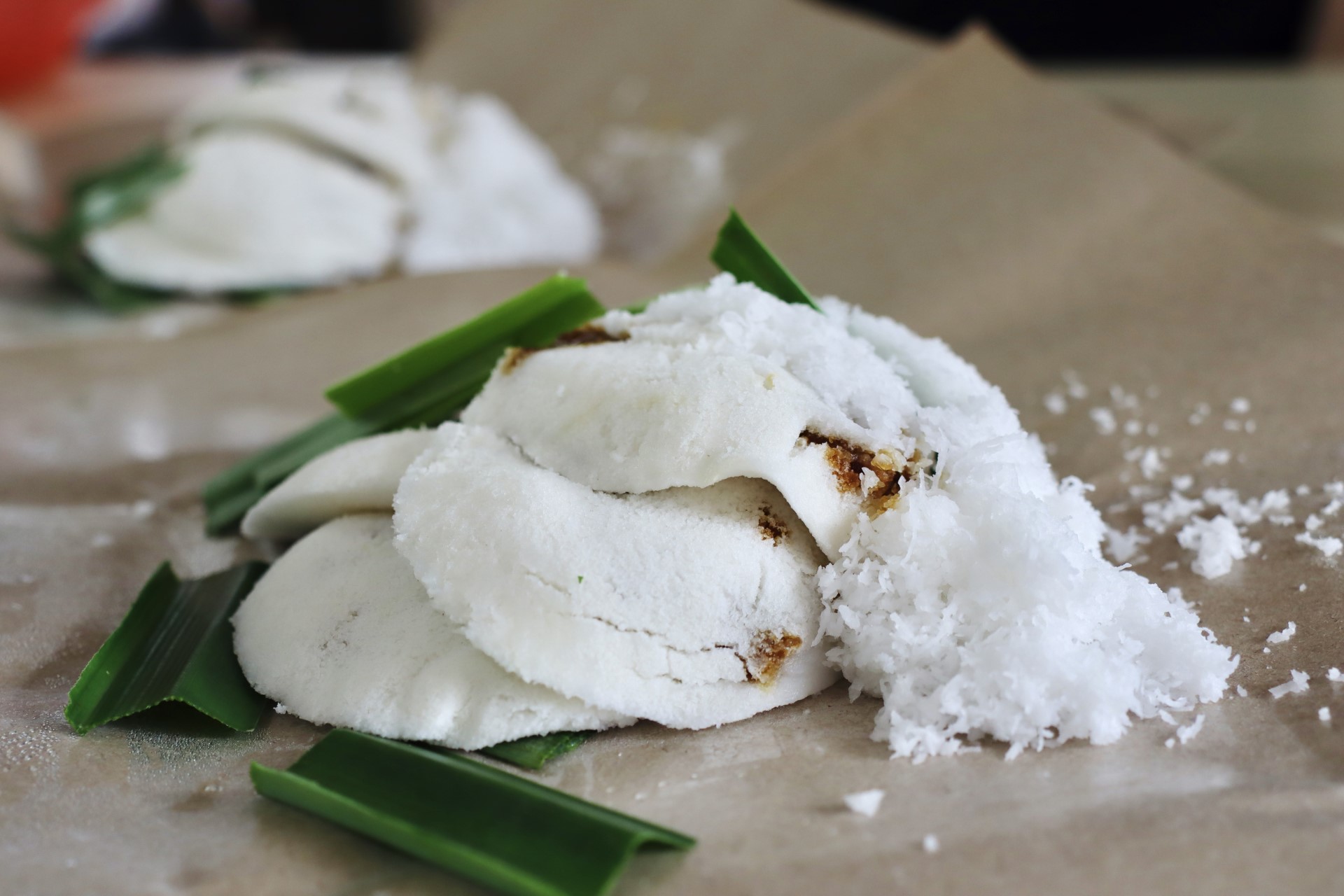 It's not only delicious, but the technique by which it is made is mesmerising. They continuously swap the stainless steel moulds around and serve order after order for a ridiculously low price ($2,5 for 5 pieces) considering how laborious it is. They're opening more locations throughout Singapore, but Haig Road is the original one. 
These food courts in Geylang are surrounded by cute, colourful streets full of places to get food, such as Joo Chiat Road for example. We also found this creamy ice cream from the 100% vegan Kind Kones, so Geylang is definitely worth a visit. 
Little India
Little India was food-wise my favourite area of Singapore. The music, the shops, the people, the temples and and the food really make you feel you're in India. The Indian cuisine is of course very vegan-friendly so finding plant-based dishes in India was pretty easy. Just make sure to double-check for ghee, which they tend to use a lot. 
This little place called Fortune Corner Eating House, close to the Tekka Center food court in Little India, was always packed with locals and we understand why. The food is cheap and delicious and the portions are huge. 
Thosai
Thin, crispy rice pancakes, served with curry's and dahl. Usually eaten as breakfast.
Idly 
Soft, savoury cake made of fermented black lentils and rice, served with curry's and dahl. Usually eaten as breakfast. Next to it are vadai, a spiced and fried dough snack, comparable to a Surinamese bara.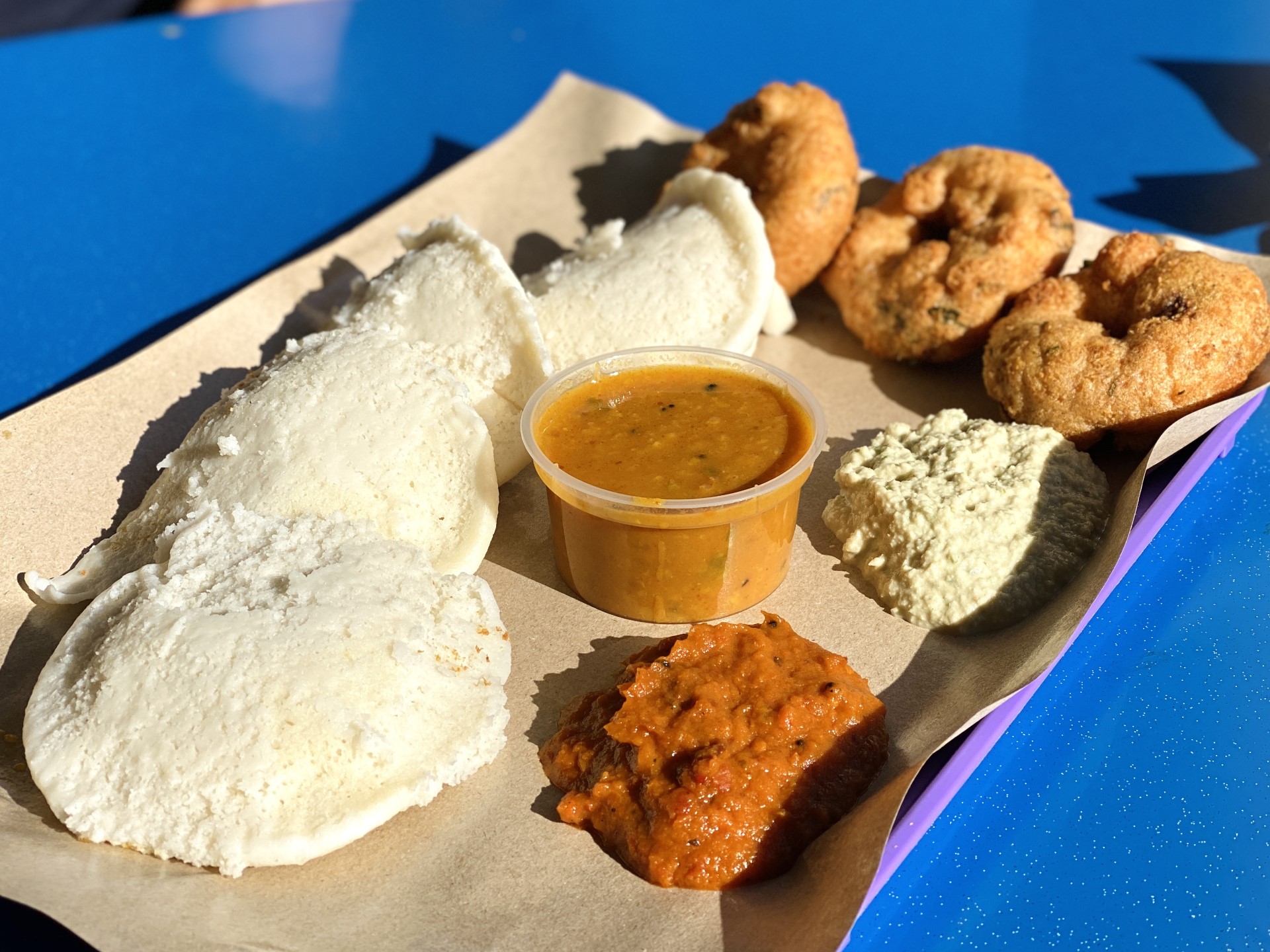 Appam
Crispy pancake made with fermented rice batter and coconut milk, with a thick creamy part at the bottom. In Sri Lanka they are known as 'hoppers'.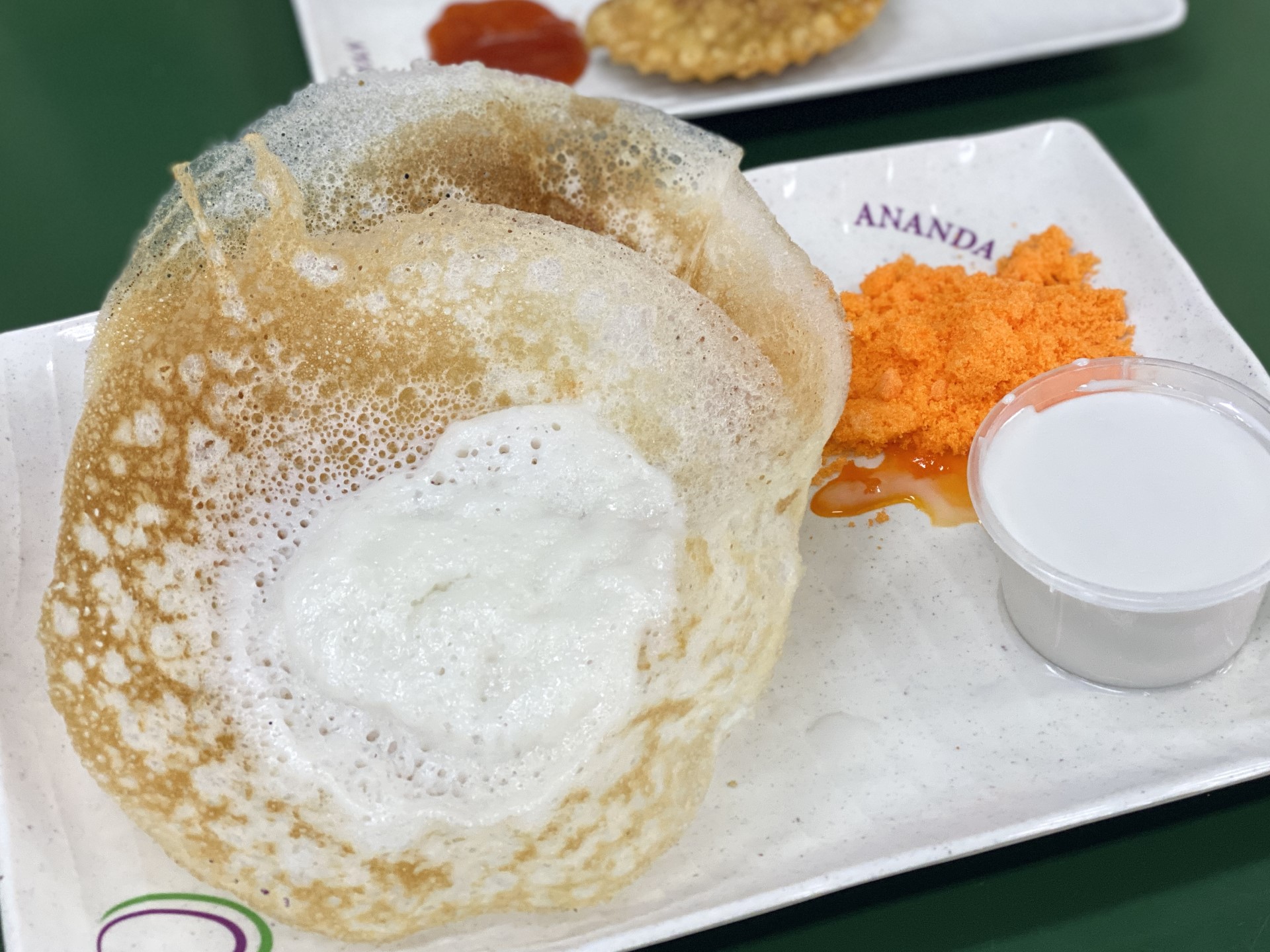 (Garlic) naan
Often served with something like dahl, naan is always welcome. Garlic naan is my favourite. Often made with dairy or egg, so make sure to check.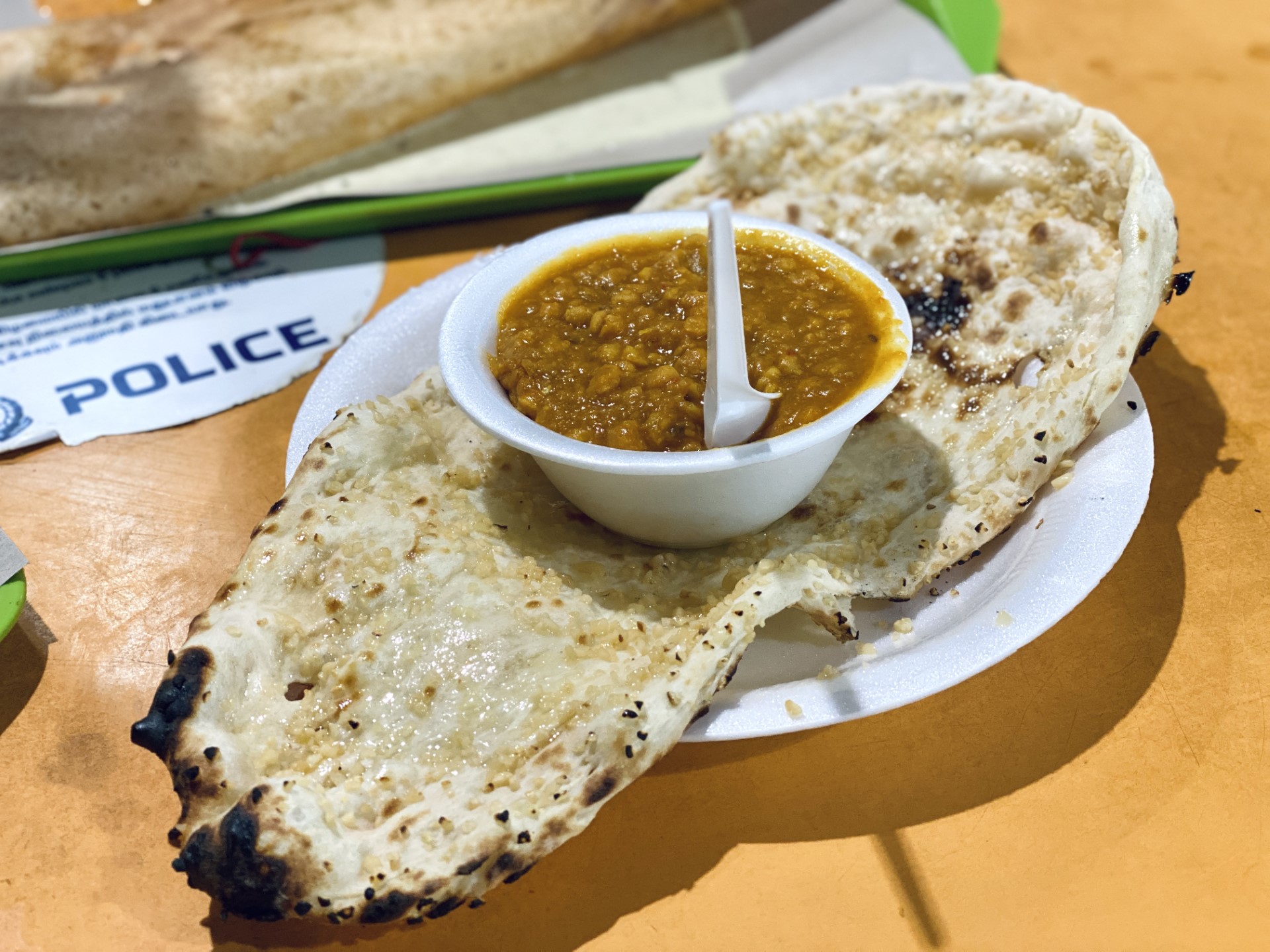 Biryani
Often served with chickpeas, papadum and a curry, biryani is always a safe a delicious choice. Check whether they use ghee!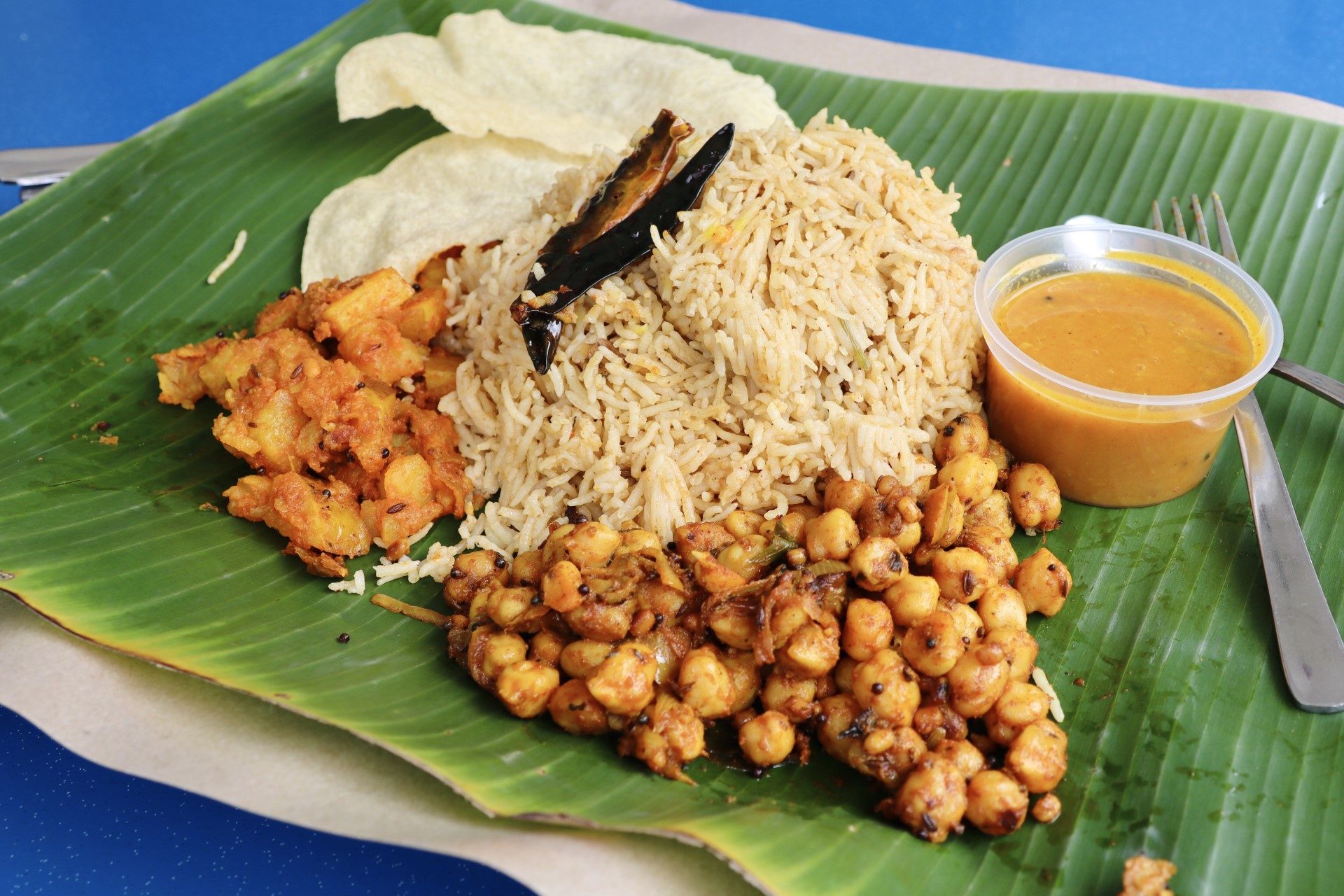 Indian curryies
If all else fails, the most basic Indian curry's are almost always vegan. From dahl to chana massala with chickpeas. Get some chapattis on the side and you're good to go.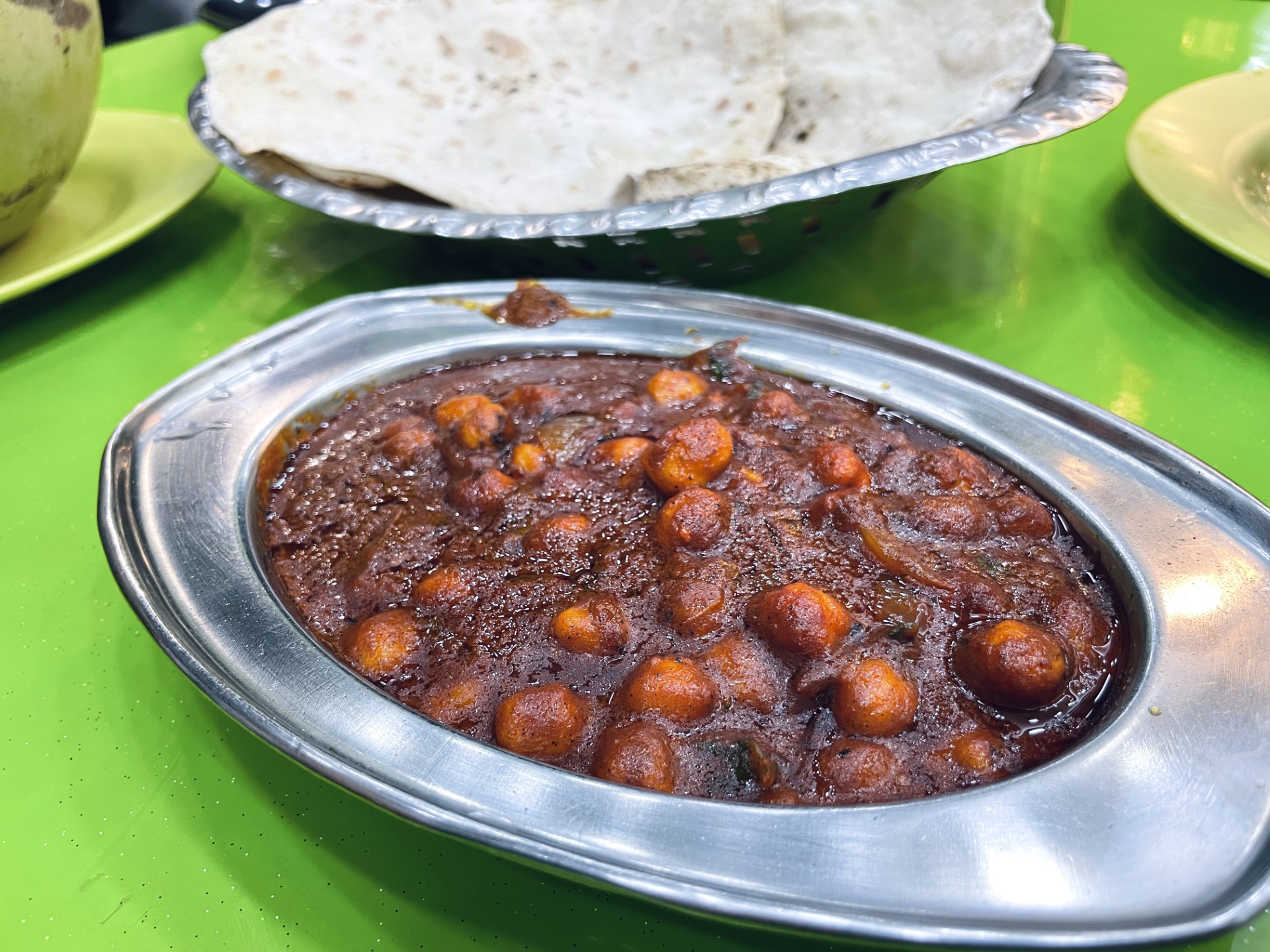 Sweets
The Indian cuisine is full of all kinds of sweets, such as sweet puri. They're definitely not all vegan, so be sure to check.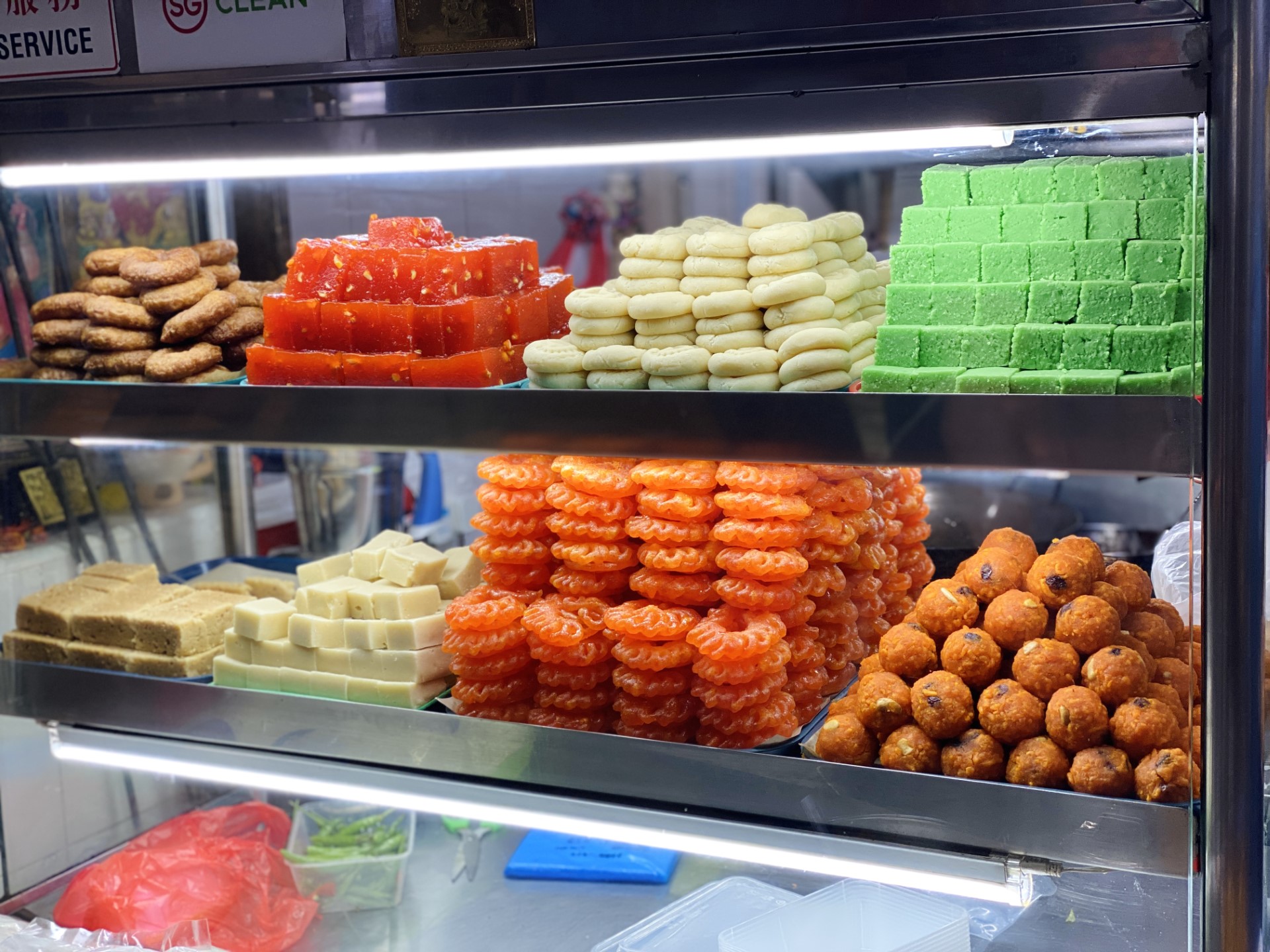 Chinatown
Vegan street food and hawker food in Chinatown was a bit more of a challenge, but trust me, it's worth the effort. The Chinatown Complex Food Center and the Maxwell Food Center offer plenty of vegan options if you try a little and are willing to withstand the stench of pork as you search.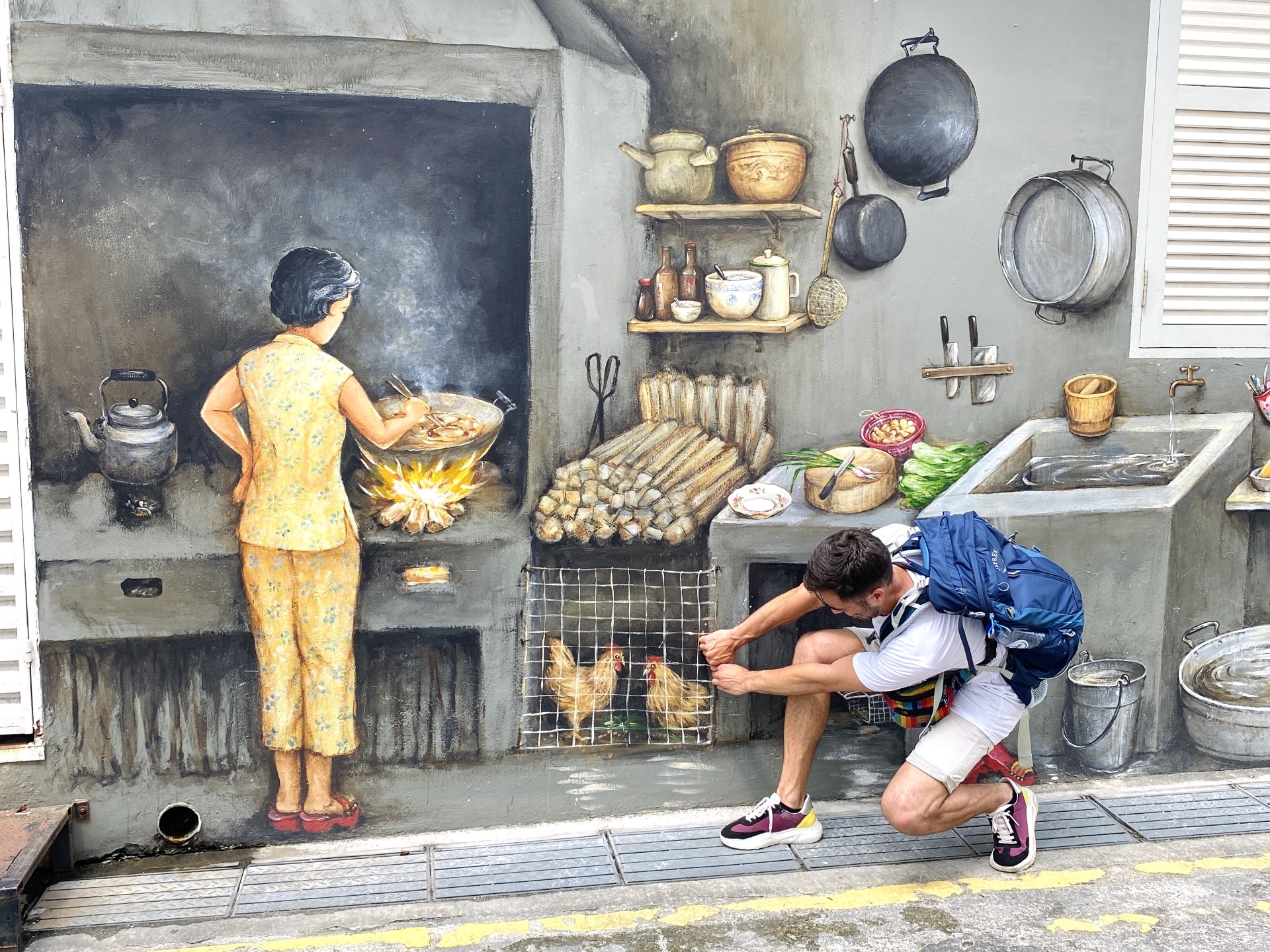 Rojak
Rojak is almost always vegan, healthy(-ish) and delicious. Every seller had their very own version so it never gets boring.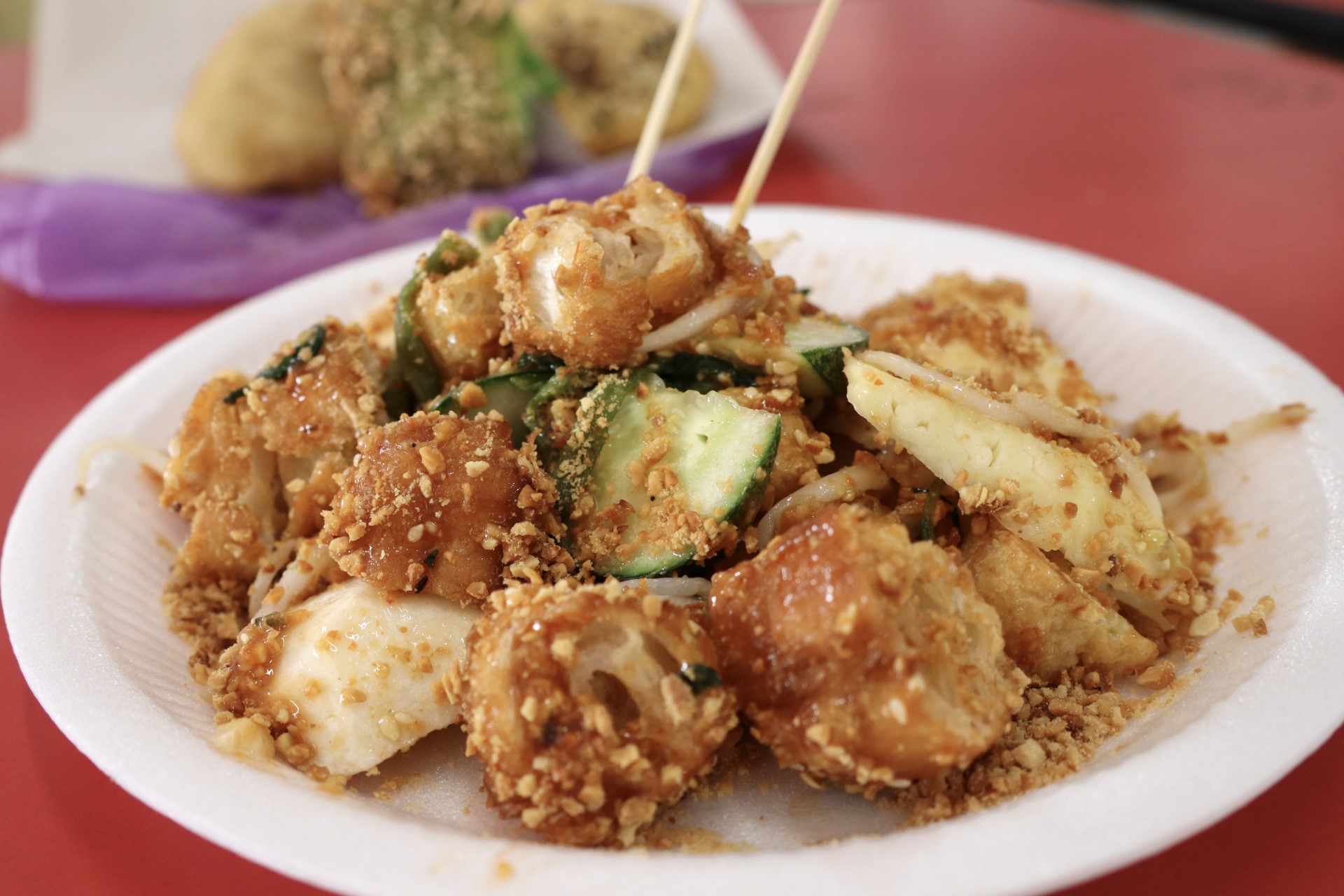 Mapo tofu
Usually containing tofu and mince, you can find stalls that will serve it with just the delicious, silken smooth tofu in the tasty, typical Szechuan spiced sauce. 
Also check out my own Mapo Tofu recipe with my own twist full of veggies. 
Kang Kong
I know it looks exactly like the rabbit food you don't want non-vegans to think vegans eat but trust me, it's so good. Especially when they're extra garlicky, like the one in the picture above.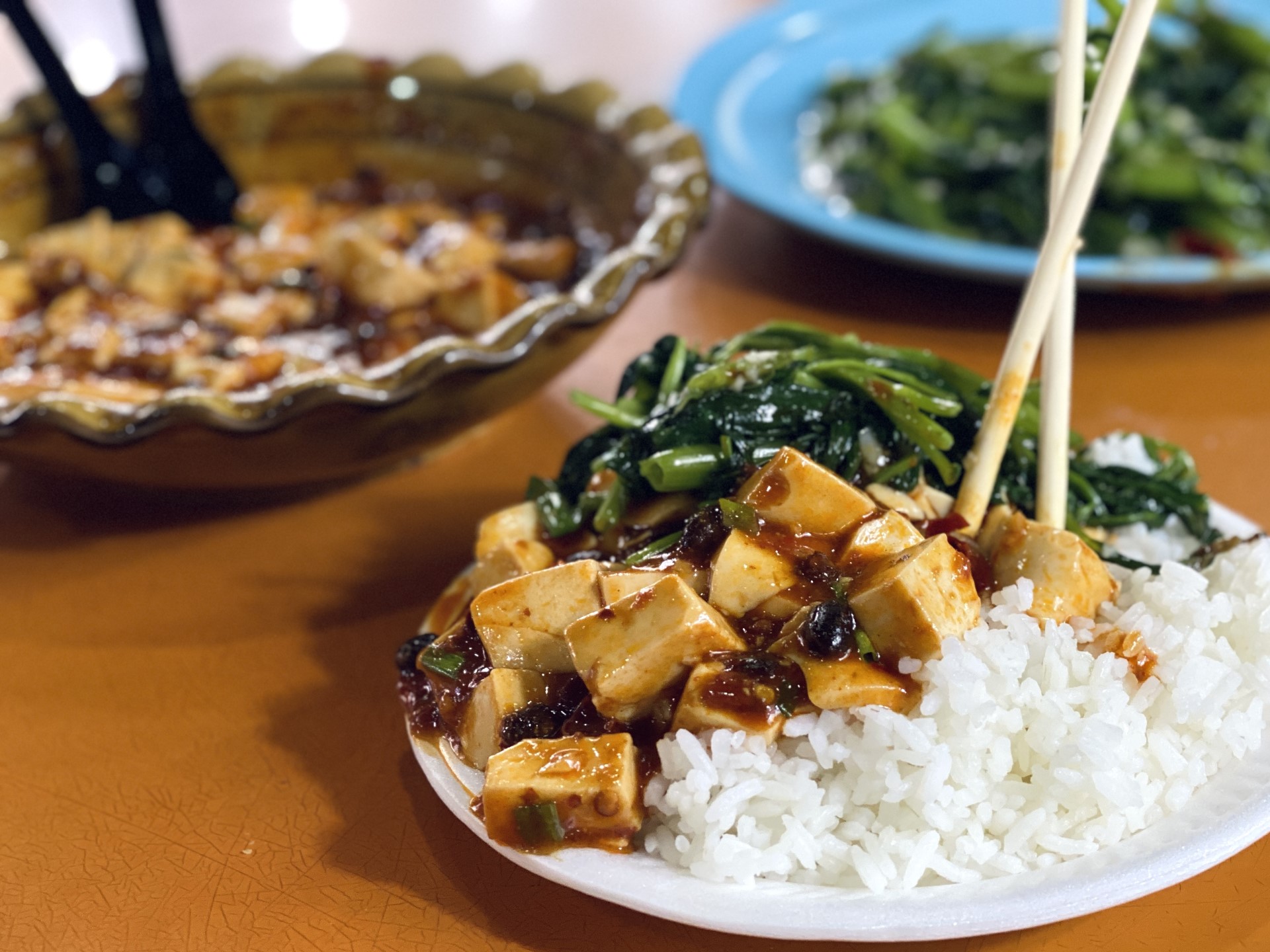 Skewers
When you think of skewers, you think of meat. But a lot of stalls also offer vegan condiments on their skewers, such as king oyster mushroom, veggies, tofu, bao and more.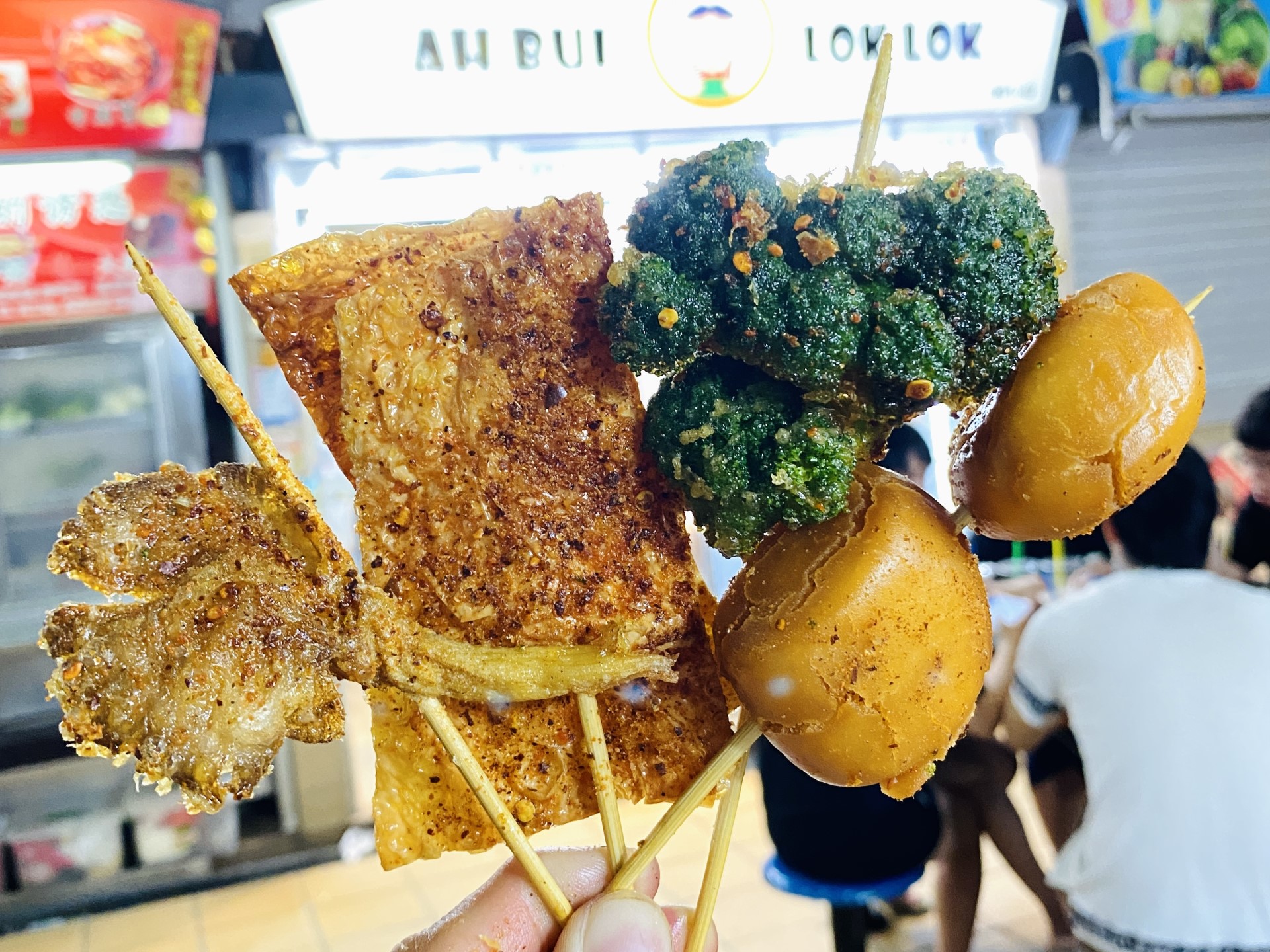 Buns
Search for the little bakeries selling all types of buns, such as these pandan butterfly buns, buns filled with red bean paste, salted bun, fried dough sticks and more.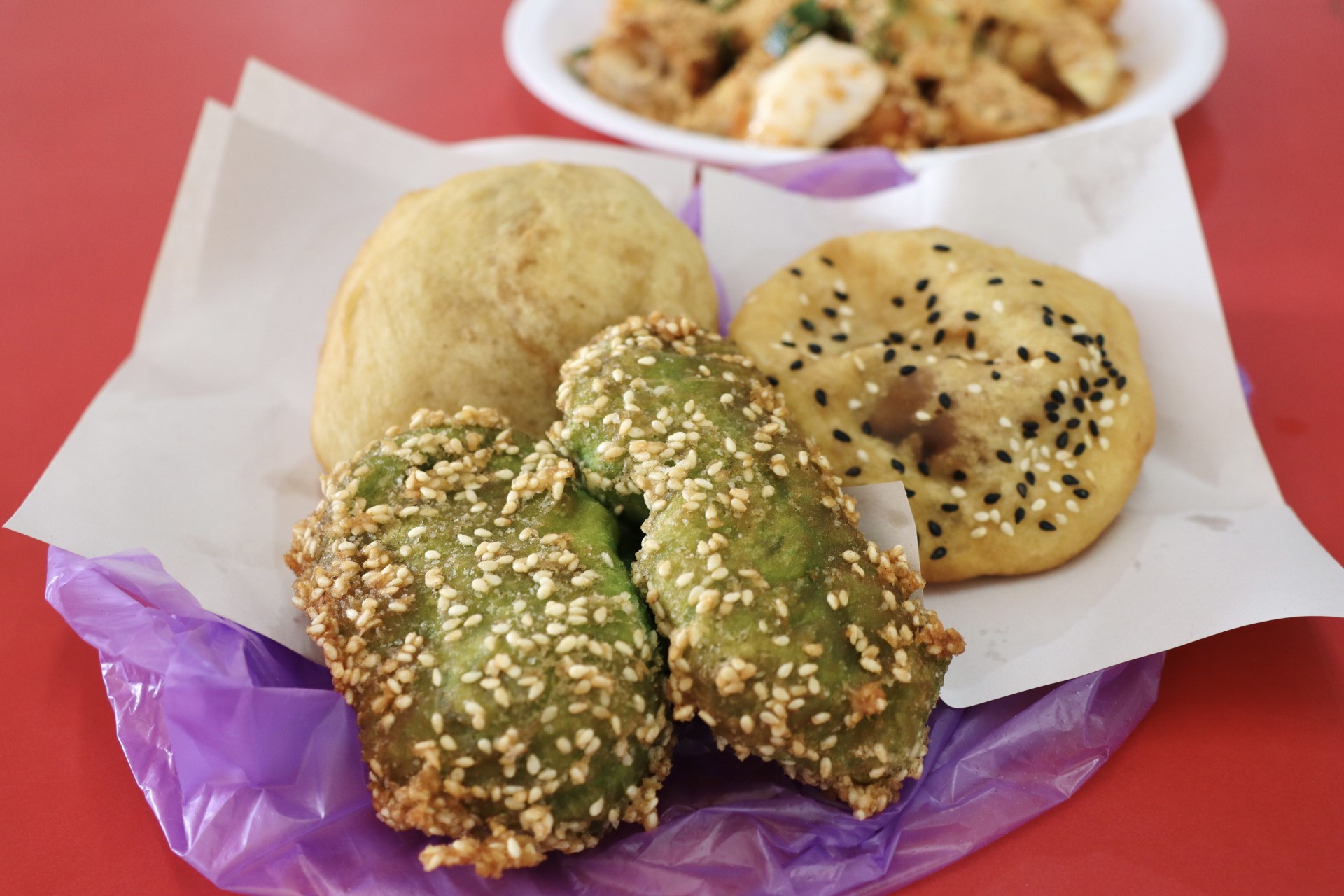 Thai
Craving Thai? You'll find plenty of Thai stalls in the Chinese hawkers (the Indian one's too, but fewer). Here you'll find dishes like this Thai green curry, green curry rice and mango sticky rice I found at Chinatown Complex Food Center.
Sweets
A lot of these sweets will contain gelatin or egg, but this water chestnut cake and some others did not. Was it good? No. Regretted not going for a different flavour.