Looking for vegan-friendly warungs in Ubud, Bali, where you might just score the very best vegan food in Bali? I listed my 10 favourite vegan-friendly warungs from Ubud for you.
There is definitely no lack of fancy vegan-friendly restaurants in Ubud, Bali. However, it is much more fun (and cheaper) to eat at one of the small-scale, authentic, local warungs (Indonesian eateries). Because these are definitely not all as vegan-friendly (or even familiar with the concept) as the expensive, tourist-oriented restaurants, they sometimes takes a bit longer to find. I'll save you the trouble and listed the 10 warungs in Ubud where I've eaten the best plant-based food.
Siboghana Vegetarian Warung
This vegan warung is somewhat hidden, in a beautiful and quiet courtyard. They serve the very best vegan satay lillit from Ubud, which you just have to try! They also servce delicious curries (Kare Siboghana) with tempeh, tofu and crispy mushrooms.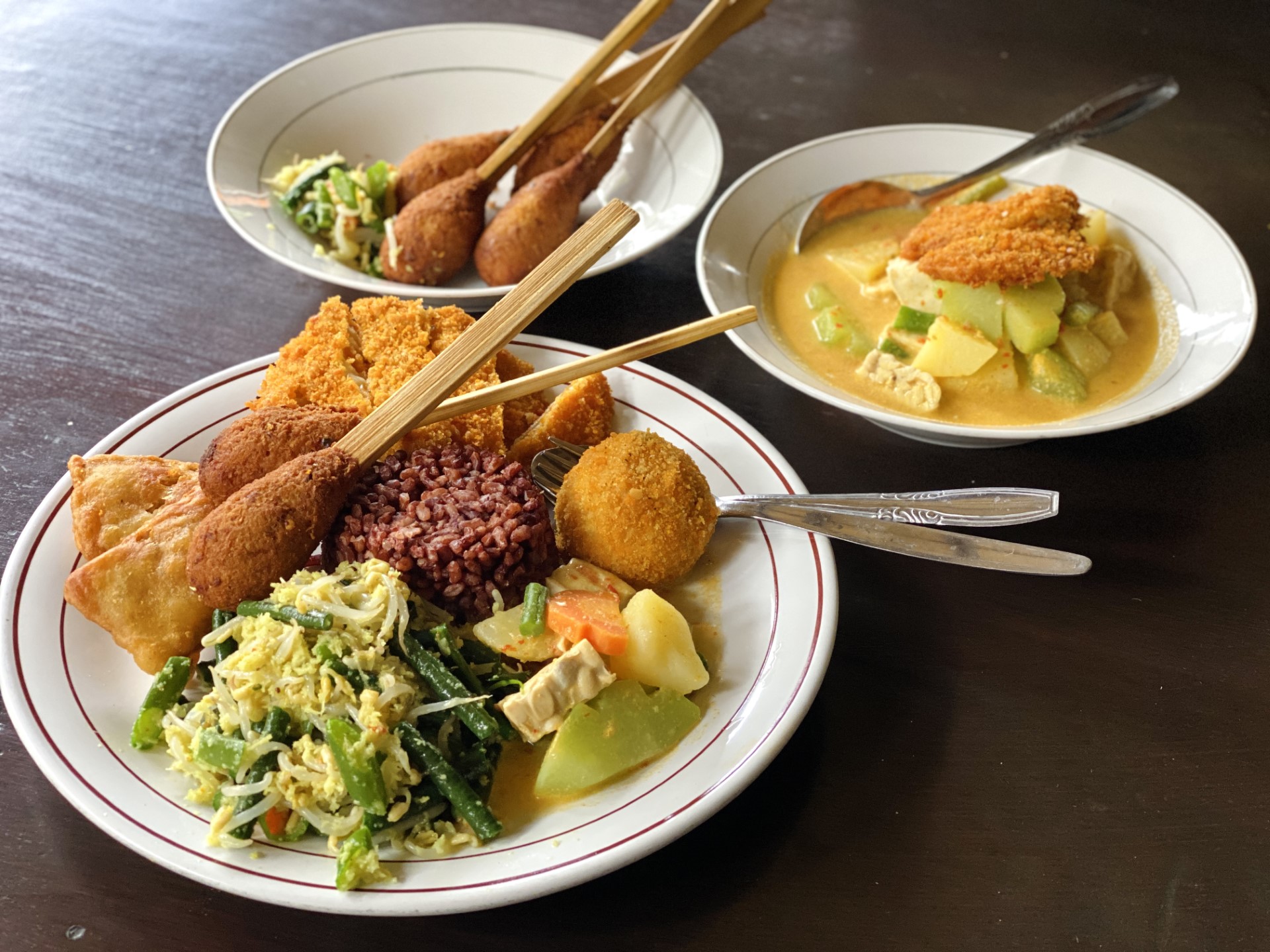 Minang Vegan Warung
100% vegan, for the animals! We found our first and one of the best nasi campurs here, along with our first tempeh geprek. The juices are also delicious, the prices are low and the owner has a "be vegan, make peace" sticker on his scooter.
Warung Green
At this 100% vegan warung they serve a buffet where you can fill your plate by yourself for a friendly price. Dangerous, because everything looks so good. If you're smart, you'll take a bunch of the delicious vegan snacks and pastries to go for later!
Ubud Shanti Warung
Possibly our favorite warung in Ubud! Hidden in the middle of the beautiful rice fields, you will find this cute warung, run by a hard-working, sweet family. The vegan curry, noodles and many snacks are tasty, but the real star is their rich vegan nasi campur. We were happy to come back for that!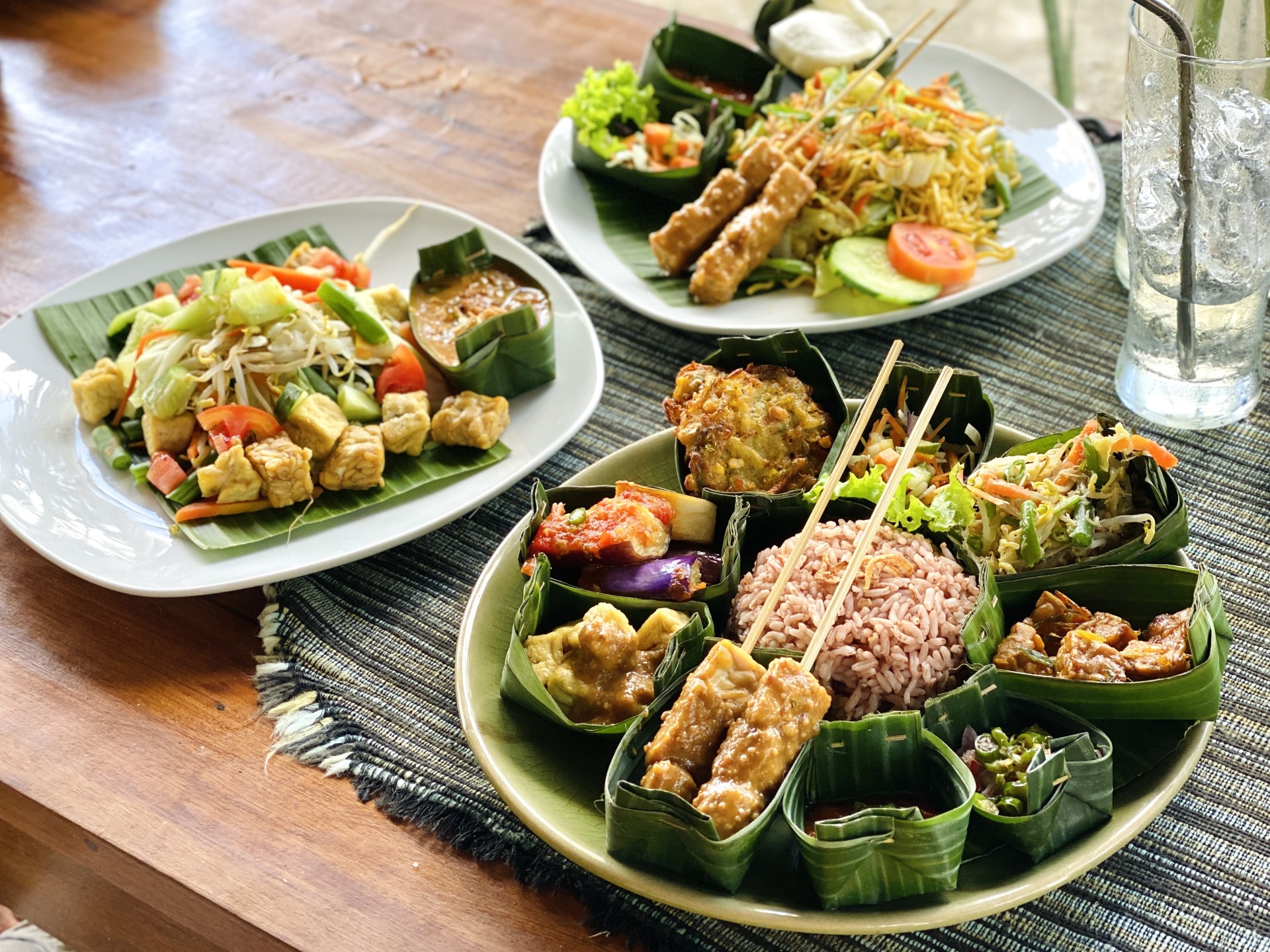 Compound's Warung
This warung is located in a quiet courtyard in the center. They serve fruity breakfast bowls, curries, nasi campur and delicious desserts at very reasonable prices. This dadar gulung and bubur injon (black rice pudding) were incredible.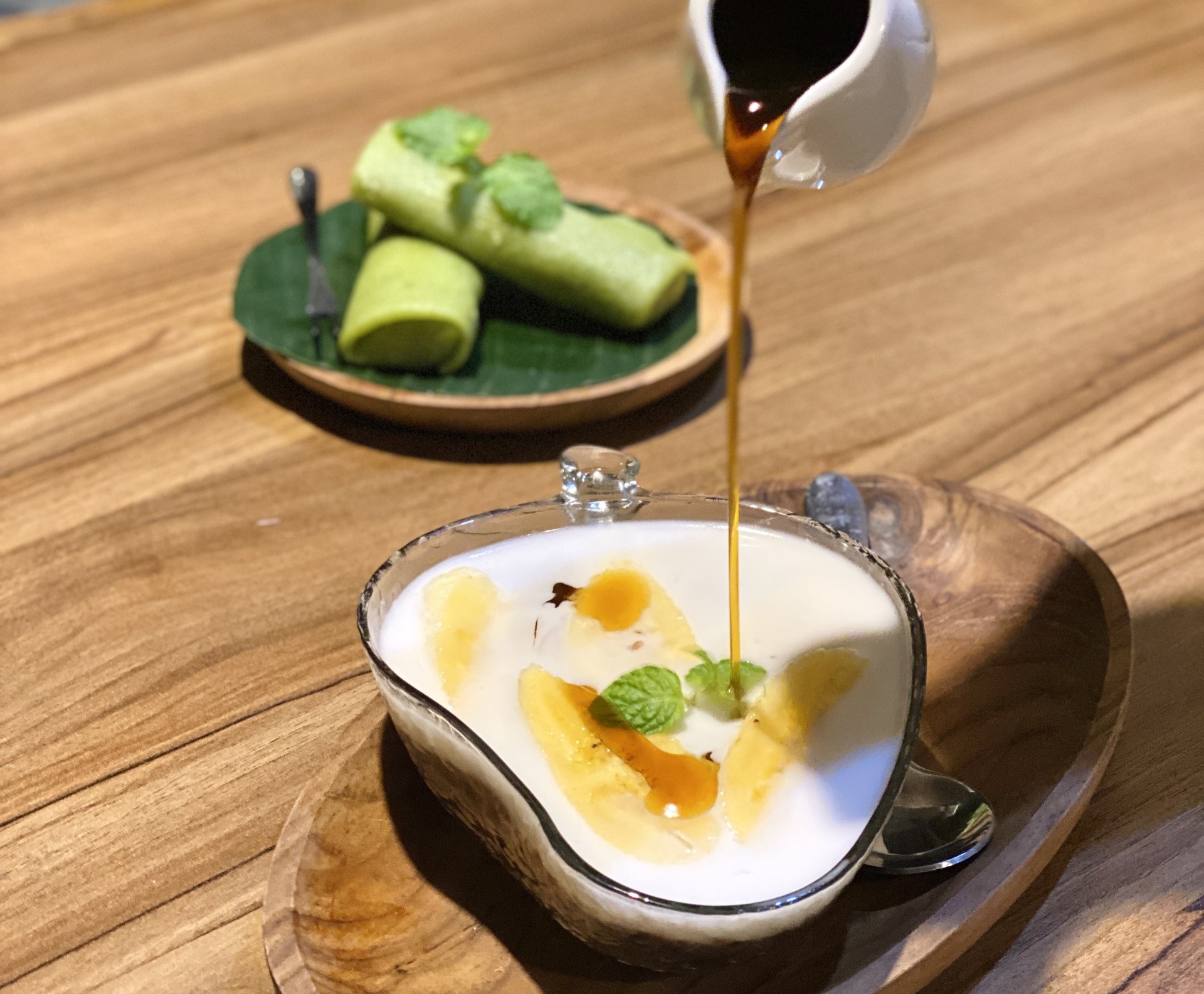 Fortunate Coffee Vegan Vegetarian
Located just north of Ubud, this beautiful, 100% vegan warung is all about yoga. However, the restaurant is completely vegan and they have a LOT of different options on the menu. From Indonesian to Chinese and from small bites to huge curries. We put together our own snack table and it was the best meal we had since a very long time!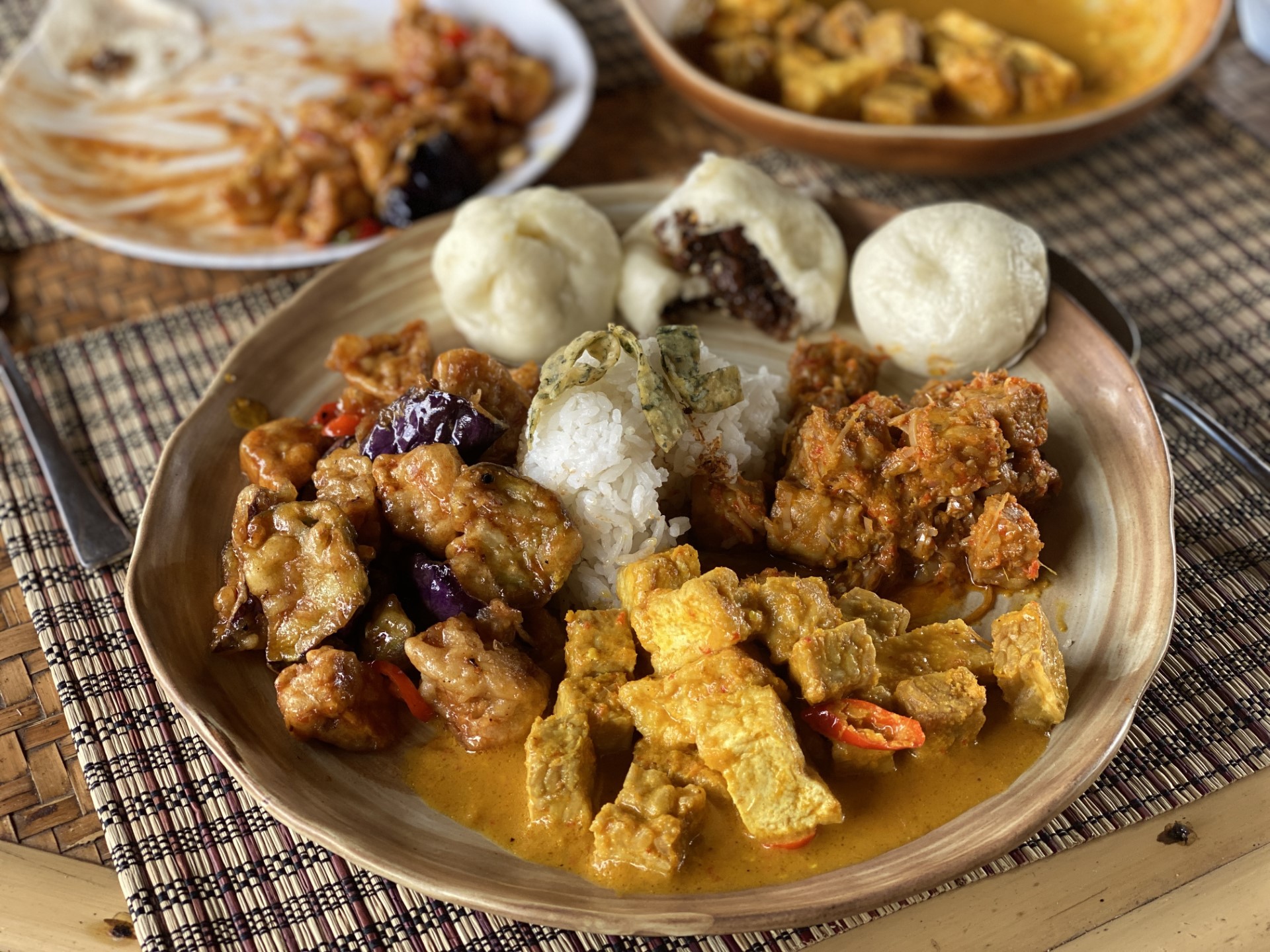 Puspa's Warung
This cute downtown warung is run by an incredibly warm family. They have plenty of vegan options, such as a Balinese curry and a jackfruit rendang. The pumpkin cake and sticky cake (not the cake you expect) are delicious too!
Sinduk Warung
This small warung in the center serves many vegan dishes, such as smoothie bowls, tempeh satay and more. The portions are a bit small but the prices are logically low. Just order more dishes!
Warung Lokal
This warung in the main street serves several vegan options as well, such as this vegan nasi campur, Balinese curry and tempeh sayur.
Warung Biah Biah
This wildly popular warung right in the center feels a bit crowded (there is often a queue outside, but it moves very quickly), but there's a reason it's so popular. Prices are low, the menu is extensive and the food is delicious. In addition to large dishes, you can order a selection of smaller dishes to put together your own nasi campur!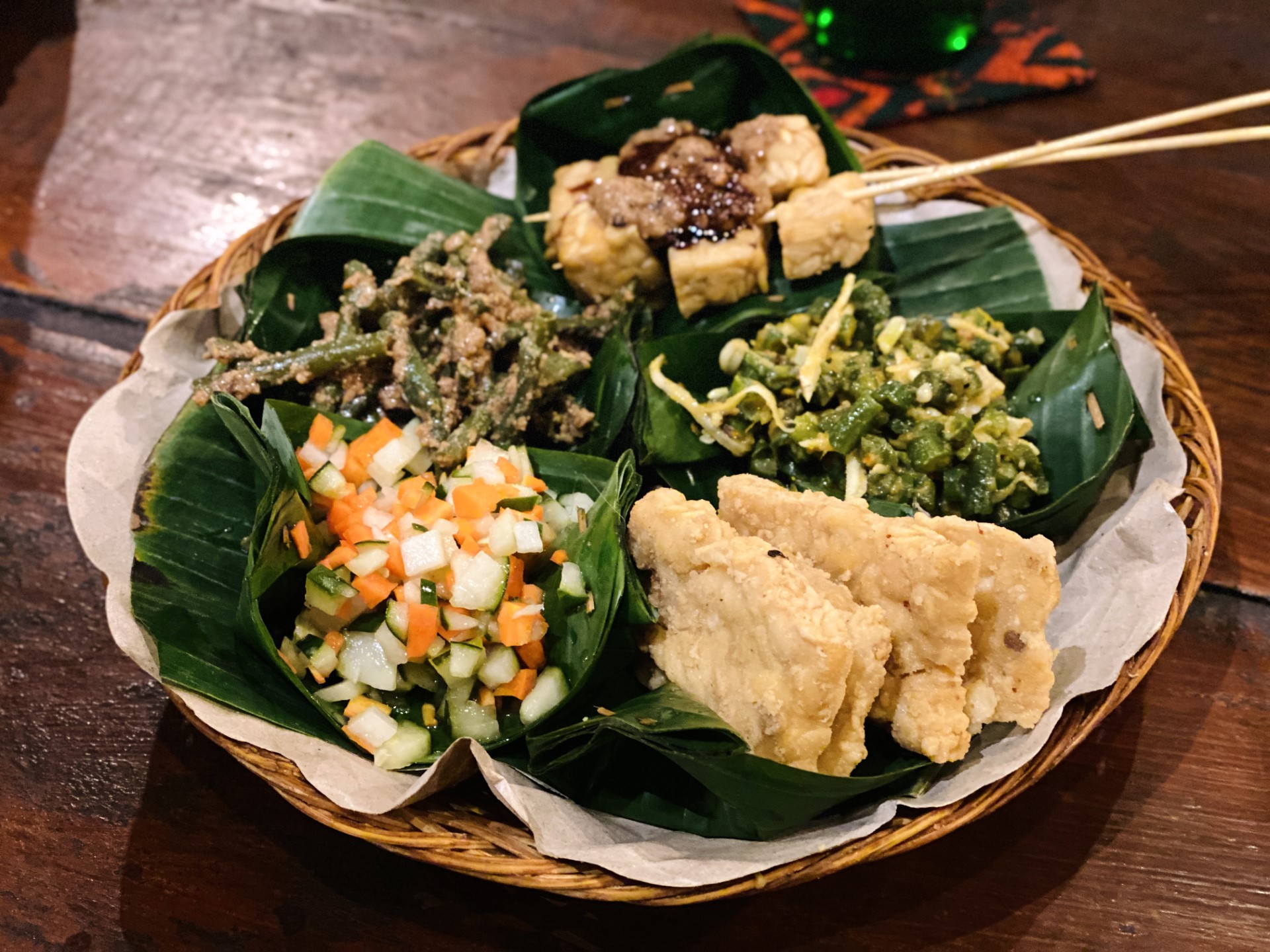 Bonustip: Ubud Cinnamon
Absolutely no warung, but I drove past this place that serves vegan cinnamon rolls so I hit the brakes immediately. They were really delish!