As a vegan in Athens, you don't have to miss out on anything! I have listed all my favorite vegan restaurants and vegan-friendly hotspots of Athens in this vegan guide to Athens.
Many Greek dishes have been vegan for centuries (accidentally), but they just don't get that moral hipster label. Although the word 'vegan' is appearing more and more on the menus and the signs of restaurants, sometimes all they offer still is that single, slightly boring option and you sometimes have to search a little longer. In those situations, always keep the victim in mind, whose life is always more important than (that little effort during) your vacation. You'll be fine, as you will see below.
Looking for the most vegan-friendly place to stay in a perfect location? Niki Athens hotel is the place to be!
🏆 Winners Vegan Restaurant
And the winner it is! It's hard to choose, but this is my favorite restaurant in Athens. Winners Vegan is located under the Niki Athens Hotel and is beautifully and stylishly decorated. They serve healthy bowls, delicious creamy noodles, salads, vegan pancakes, pasta, curry, burgers, cocktails and more. Big fan!
🥑 Avocado
This cute little place is right across from Niki Athens Hotel and next to an organic supermarket. They serve all kinds of healthy bowls, curries, noodles, burgers, salads, juices, smoothies, sweets and more.
🌍 Mama Tierra
Mama Tierra serves vegan versions of traditional Greek dishes, such as these delicious mousaka and soutzoukaki🤤 But also korma, burgers, pastas, falafel, burritos and more. They opened a second location near Acropolis with vegan versions of Greek street food.
🥬 Peas Raw Vegan
This is how tasty and rich raw vegan can be! They serve huge healthy raw bowls, all kinds of sweets, different pita gyros, burgers, salads and vegan cheeses.
🥁 Vegan Beats
A tiny place with food and snacks for the soul. They have several pita gyros (the one with king oyster mushroom is delicious!), quesadillas, burgers, wraps, salads and beautiful, colorful sweets.
👑 Ice Queen Gelato
Attention people with a sweet tooth! This is where you go for delicious vegan waffles topped with ice cream and vegan crepes with vegan Nutella. Prefer savory? They also have delicious vegan cheese that melts very well inside the crepe.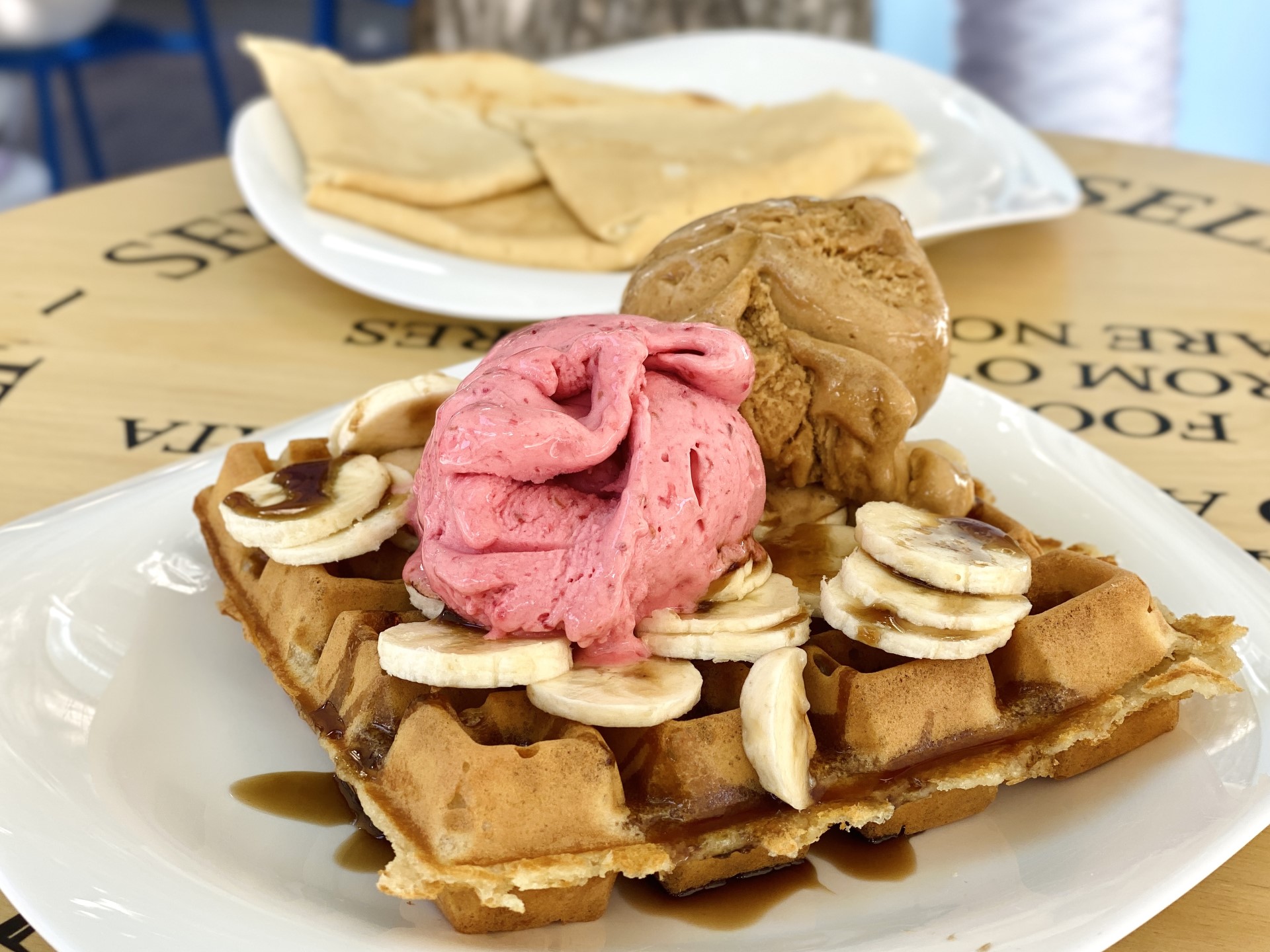 🇬🇷 Lukumades 
Traditional, fried Greek dough balls. Greek. dough. balls. Can't go wrong, right?! They have been accidentally vegan for centuries (many toppings in this shop are not) and they taste amazing! The apple-cinnamon filling is of course my favorite, but the chocolate one is also delicious if you're brave enough!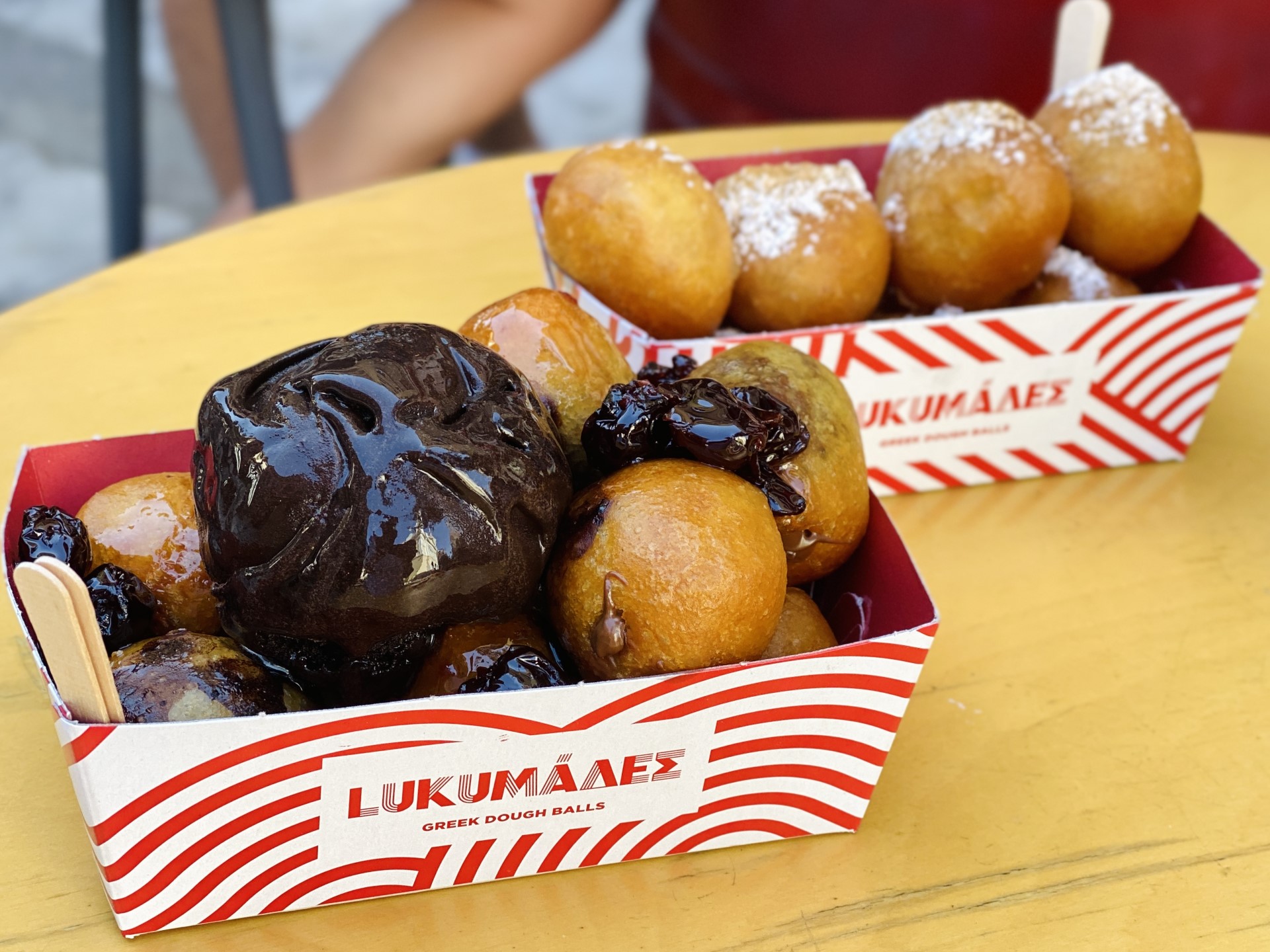 🍳 Veganaki
Another great little place! You can go here for vegan omelettes, sandwiches, wraps, salads, juices, sweets and much more. The fact that they are clearly "vegan for the animals" immediately earns them bonus points, of course.
🌱 More vegan hotspots in Athens
These vegan(-friendly) hotspots were on my wishlist but unfortunately I didn't have enough time (and stomach space) to visit them. Do it for me, please!
🌱 Cookoomela Grill
🌱 Mother Vegan Cafe Bistro
🌱 Treis Laloun
🌱  Vegan Only Pizza
🌱 Bamboo Vegan
🌱 The Vegan Vandal
🌱 All That Jatz